Quick Facts:
Pros:
Stellar safety ratings and advanced driver assistance features.
Simple, high-quality interior.
Spacious and flexible cargo area.
Powerful plug-in hybrid variant.
Cons:
Four-cylinder engines not as smooth as rival six-cylinders.
Infotainment system has a learning curve.
Top versions get expensive quickly.
Vehicle Type: A four-door, three-row midsize luxury SUV.
Price Range: From $49,345 to $74,295, including the $995 destination charge but before any options.
Powertrain: A 250-horsepower, turbocharged 2.0-liter four-cylinder engine and front-wheel-drive are standard. All-wheel-drive is optional.
Optional powertrains include:
A 316-horsepower, supercharged and turbocharged 2.0-liter four-cylinder engine with all-wheel-drive.
A 400-horsepower, supercharged and turbocharged 2.0-liter four-cylinder engine and 65-kW electric motor with all-wheel-drive.
All models come paired with an eight-speed automatic transmission.
More Photos
See more 2020 Volvo XC90 photos here.
---
Overview: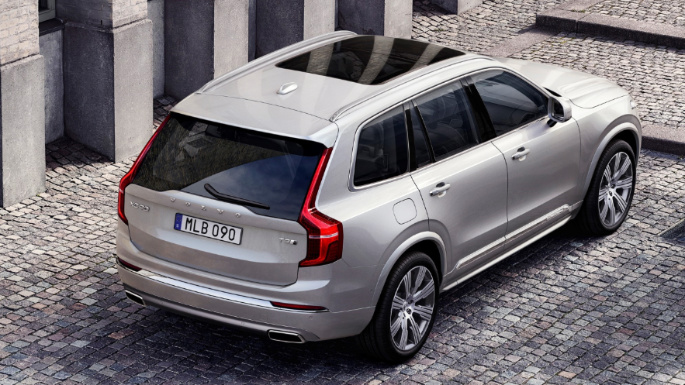 Luxury SUVs are having a moment now, but the Volvo XC90 has been there from nearly the beginning. First launched in 2003, the XC90 helped popularize the three-row luxury SUV that drove much like a wagon and hauled people like one.
Considering wagons helped Volvo make a name for itself among upscale families from the 1970s through the 1990s, the XC90's formula was rapidly adopted by other companies. This second-generation XC90, launched in 2016, also set a trend for ultra-clean Scandinavian design and highly advanced driver assistance technology and safety features.
Rivals for the XC90 are the Acura MDX, Audi Q7, BMW X5, Buick Enclave, Cadillac XT6, Infiniti QX60, Land Rover Discovery, Lexus RX L, Lincoln Aviator, and Mercedes-Benz GLE-Class.
For 2020, Volvo updated the XC90's styling with a revised grille and wheel designs across the lineup. There are also new upholstery options and colors for the wood trim.
All models now get a fully digital, 12.3-inch TFT display in the instrument panel, and the 9-inch touchscreen infotainment system has a faster processor. There is a new six-passenger interior configuration on Momentum and Inscription T6 and T8 models with second-row captain's chairs, and a new second-row floor console to go with that. R-Design models get full Nappa leather upholstery as standard, and there have been some revisions to the driver assistance technology systems.
Finally, the plug-in hybrid T8 models get a slightly larger 11.6 kWh battery, but with just 1 mile of extra electric-only range and slightly better combined fuel economy estimates.
The high-end, four-seat Excellence model has been discontinued.
The 2020 Volvo XC90 is available in three trim levels: Momentum, R-Design, and Inscription.
Overall Score: 7.4/10
---
Safety Features: 9/10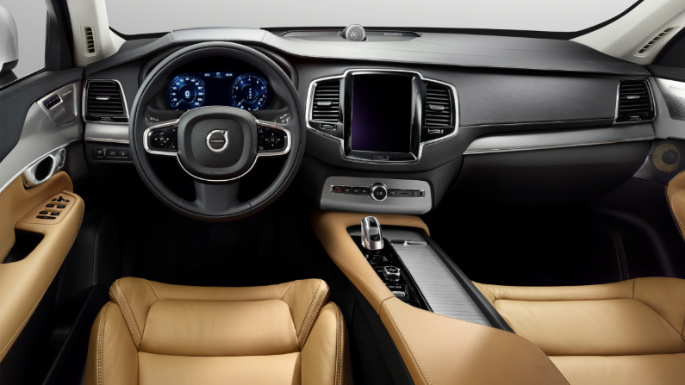 As expected of a Volvo, the XC90 has both exemplary crash test scores and collision avoidance features. The Insurance Institute for Highway Safety (IIHS) awarded the 2020 XC90 its highest rating, a Top Safety Pick Plus, in overall tests. The National Highway Transportation Safety Administration (NHTSA) gave it a maximum five-star rating in overall tests.
The XC90 comes standard with a number of driver assistance systems. Pilot Assist incorporates adaptive cruise control with the ability to perform minor steering inputs at highway speeds, provided the driver has their hands on the wheel. Full-speed automatic emergency braking is included. The City Safety system features low-speed emergency braking and forward-collision warning, along with pedestrian, cyclist, and large animal detection. Blind-spot warning with rear cross-traffic alert and braking and lane departure warning with lane-keep-assist are also standard. Other systems include an active collision steering avoidance system and a run-off road mitigation program. A surround-view camera, a head-up display, and an integrated child booster seat are options.
All rivals at least offer features such as adaptive cruise control and advanced driver assistance technology systems, but Volvo stands out as one that makes these features standard on every XC90. Even blind-spot monitoring is an option on some of the competition.
---
Value: 7/10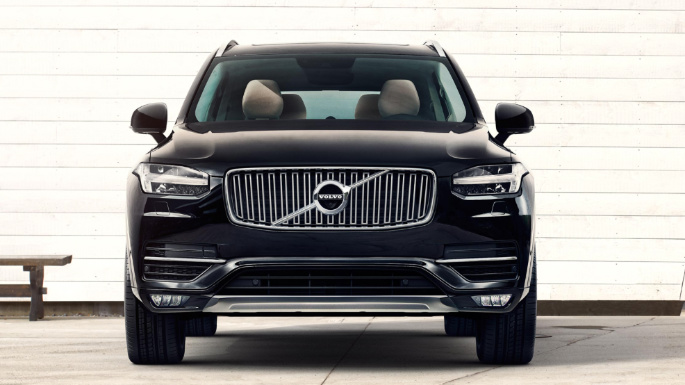 The XC90 Momentum T5 front-wheel-drive starts at $49,345, while the top-end Inscription T8 plug-in hybrid starts at just over $74,000, but can crest $80,000 with a few options. While that sounds like a huge spread, the XC90 competes not only with the relatively low-priced Acura MDX and Buick Enclave, but also powerful versions of the BMW X5 and Mercedes-Benz GLE, so its prices are not out of line with the diverse field.
XC90s make the most sense in the high-$50,000 range, which is what a Momentum model with the more powerful T6 engine and all-wheel-drive costs. Standard features include leather upholstery, built-in navigation, blind-spot monitoring, the Pilot Assist driver assistance technology feature with adaptive cruise control, heated front and rear seats, and some other choice options. It's still a few thousand dollars more than a comparable Acura, Buick, or Lexus RX L, but about what an Audi Q7 costs and well under an X5, GLE, or Land Rover Discovery with similar power and equipment.
R-Design models offer more equipment along with aggressive styling but at a cost. Inscription models -- starting at around $64,000 -- feel more expensive, but offer more equipment and higher-grade materials more than anything else.
The T8 plug-in hybrid starts at $68,000 before any applicable tax incentives and isn't much better equipped than a corresponding T6 model.
---
Tech Features: 6/10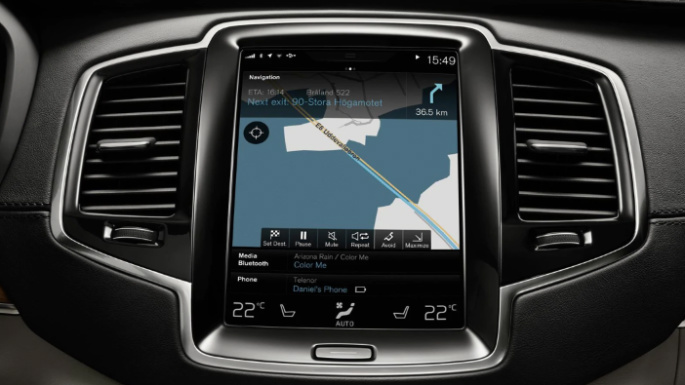 All XC90 models come with a nine-inch touchscreen infotainment system called Sensus, which also includes Apple CarPlay and Android Auto compatibility, with voice recognition, HD radio and satellite radio. All but the T5 Momentum models get built-in navigation. There are some physical buttons for audio controls and a volume knob, but most functions are performed through the touchscreen. That takes some getting used to, and while the system is somewhat intuitive after a learning curve, the infotainment platforms found in the BMW X5, Cadillac XT6, and Lincoln Aviator are easier to use at a glance, and their infotainment systems are faster and more responsive to inputs.
The 12.3-inch TFT instrument panel display replaces physical displays with a fully digital readout for vehicle information. Audio information or navigation map can also be displayed there. But the system still closely mimics physical dials and isn't nearly as configurable as the Audi Q7 or Mercedes GLE systems.
Most models come with a Harman/Kardon audio system, but a 19-speaker Bowers & Wilkins system is optional on R-Design and Inscription models. It's a steep $3,200 option, but one of the best-performing audio systems on the market.
---
Practicality: 8/10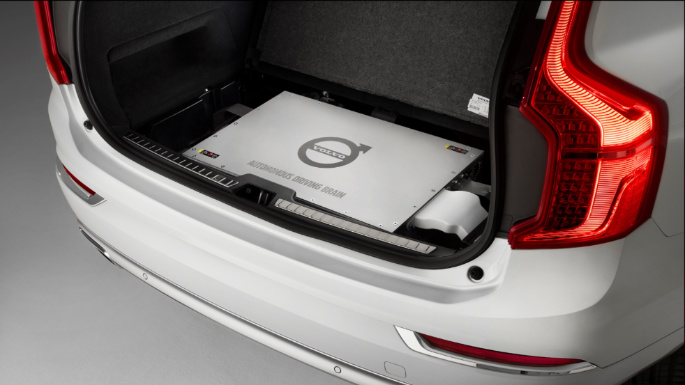 Every XC90 gets three rows of seats, with standard seven-passenger capacity, unlike the BMW X5 and Mercedes-Benz GLE that make you pay extra for minuscule third-row seats. Only the Buick Enclave can comfortably seat adults in the third row for any meaningful amount of time, and also has a maximum capacity of eight. But the Volvo is better than most, and the seats are mounted higher than the other rows to give kids a view out of the front.
The second-row seat is more accommodating with three individually sliding seats and outboard reclining ones. They also move out of the way easily for access to the third-row, while second-row captain's chairs are also available.
Optional second-row captain's chairs on Momentum and Inscription models allow for a center aisle for third-row access, but reduce maximum capacity to six passengers.
The XC90 is relatively average for the class in terms of cargo space, trailing the Enclave and Acura MDX by a wide margin, but competitive with the Audi Q7, Cadillac XT6, Lincoln Aviator, and others. There's still a usable space behind the third row when it's up, and the square aperture of the cargo area allows maximum use of the space, unlike rivals with sloping rear rooflines. The Volvo's rear seats fold individually and lie completely flat, too. But there's no power operation for the seats as in the Land Rover and a number of other rivals.
A hands-free power tailgate is standard.
Towing capacity is a maximum of 5,000 pounds when properly equipped, nothing exceptional for the class.
---
Styling & Design: 8/10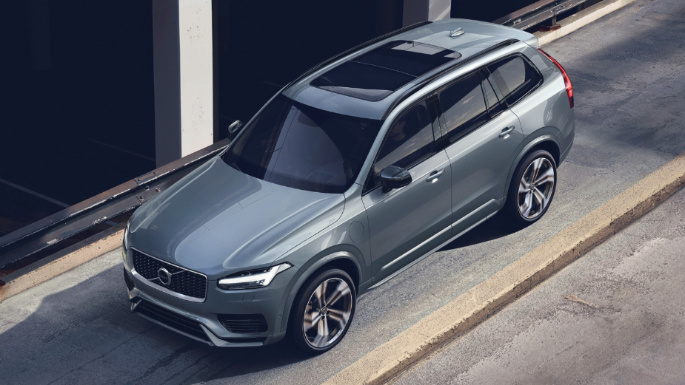 Updates for 2020 add a little refinement to what's been considered to be one of Volvo's most elegant designs in modern history. The XC90 may have been around for a while in its current form, but it manages to still look fresh with its Scandinavian aesthetic for exterior design standing out among the numerous other luxury SUVs. Momentum, R-Design, and Inscription all get their own grilles and exterior details. R-Design stands out most with its black trim and large, 20-inch wheels as standard, pretty much free of any bright chrome.
The XC90's interior is a stark departure from rivals with lots of buttons and controllers, or even giant screens. The vertically mounted touchscreen dominates the dashboard that's free of many physical controls. Some may need to get acclimated with the minimalist approach. At least most materials are unimpeachable, with only the lower pieces of the interior getting slightly lower-grade plastics.
A stitched dash and door panels come on R-Design and Inscription models, with the latter available with leather-wrapped sun visors. R-Design models get metallic interior trim with available carbon fiber inserts. Momentum and Inscription models get wood inserts that can even leave the natural grain intact. A wool blend is a new upholstery option on Inscription models.
Available interior comfort features include heated seats, a heated steering wheel, ventilated front seats on some models, and backrest massage for the front seats on Inscription trim.
---
Driving Experience: 7/10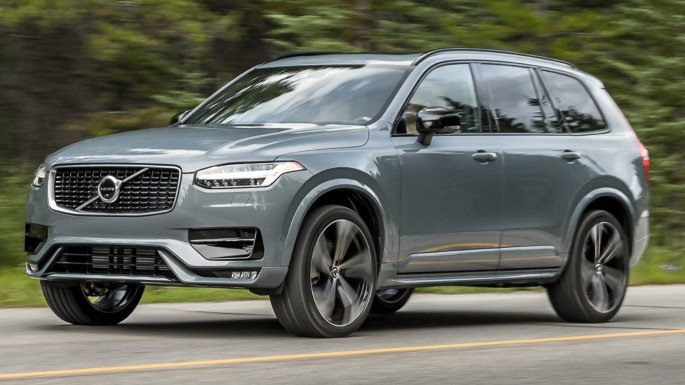 The XC90 is a very large vehicle, but its relaxed attitude seems well-suited here. The T5 has sufficient power at 250 horsepower, even if its output is relatively low against the competition. Most buyers will go for the T6 and its 316 horsepower, which is more than sufficient. The 400-horsepower T8 is even more powerful, with the thrust of the electric power off the line.
While the T6 has enough power, it doesn't exactly have a surplus. And while it can accelerate promptly, pushing it harder makes the engine sound busy. The four-cylinder and the supercharger and turbocharger combination isn't as smooth and refined rival six-cylinder engines, and the transmission sometimes hesitates to downshift promptly. When fully charged, the T8 is relatively silent in its electric-only mode, but the brakes can be touchy at parking lot speeds.
It doesn't have the agility of a BMW X5, but the Volvo XC90 is quiet and comfortable at all cruising speeds. Apart from the engine, tire noise is the biggest noise source, especially on R-Design models with firm suspension and available 22-inch wheels. The ride can be firm on all models as the wheel sizes get larger, but R-Design and Inscription T6 and T8 models are available with air suspension. It can be lowered to ease entry and exit, or raised in an off-road mode for extra ground clearance.
---
Fuel Efficiency: 7/10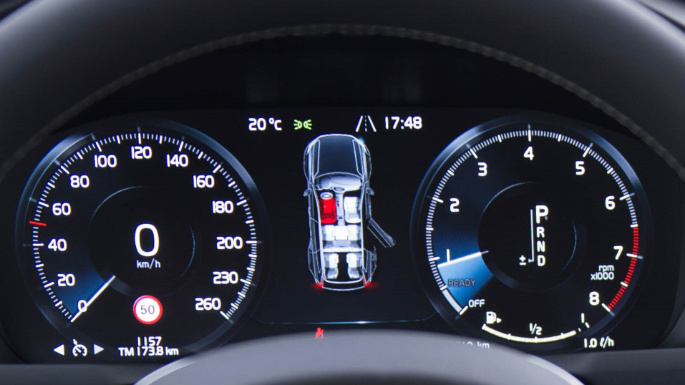 The 2020 XC90 T5 front-wheel-drive models are rated by the Environmental Protection Agency (EPA) 21 mpg city, 30 mpg highway, and 25 combined. Adding all-wheel-drive lowers that figure to 20 city, 27 highway, and 23 combined. T6 AWD models are rated at 18 mpg city, 26 highway, and 21 combined.
While competitive, many rivals have six-cylinder engines that perform nearly or just as well in fuel economy tests as the four-cylinder-only XC90. The Acura MDX, while slightly less powerful than the XC90 T6, gets 22 mpg combined with its V6 engine, as does the more powerful, turbo six-cylinder BMW X5 xDrive40i.
At least the T5 FWD model with its 30 mpg highway is something of an anomaly in this class. The Land Rover Discovery Td6 gets 23 mpg combined, but with a turbodiesel V6 engine option.
The Volvo XC90 T8 PHEV is rated at 27 mpg combined and 55 MPGe, or the equivalent of miles per gallon when the electric-only mode is factored in. It also has an estimated 18 miles of electric-only range, according to the EPA. The Lincoln Aviator Grand Touring PHEV is the closest competition right now and it's rated slightly higher at 56 MPGe, but only 23 mpg combined. However, it has a slightly longer electric-only range at 21 miles. As far as hybrids without a plug, the Acura MDX Hybrid is also rated at 27 mpg combined, and the Lexus RX 450h L at 29 mpg combined.
---
What's it Going to Cost Me?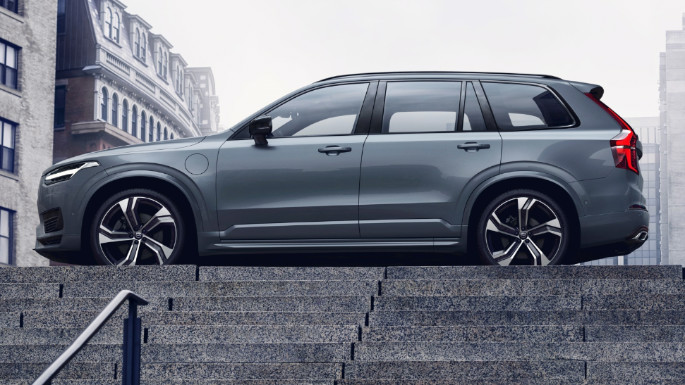 The 2020 Volvo XC90 starts from $49,345 and rises to $74,295 MSRP, including the $995 destination charge. There are three trim levels and various engine choices, depending on model.
The Momentum trim level starts from $49,345 MSRP. Standard features include a 250-horsepower, turbocharged 2.0-liter four-cylinder engine, front-wheel-drive, eight-speed automatic transmission, 19-inch alloy wheels, LED headlights with automatic high beam control, LED fog lights and daytime running lights, rear privacy glass, panoramic moonroof with power sunshade, adjustable drive mode settings, leatherette upholstery. 10-way power front seats with lumbar adjustment and driver's seat memory settings, seating for seven, keyless entry and electronic start, hands-free power liftgate, power-folding rear headrests, rear parking sensors, universal garage door opener, a 9-inch touchscreen infotainment system with wi-fi hotspot, adaptive cruise control with steering assist, blind-spot warning system with rear cross-traffic alert and automatic braking, full-speed front automatic emergency braking, lane-keep assist and run-off road mitigation.
The Multimedia Package includes built-in navigation and a Harman/Kardon audio system. A package with heated front seats and a heated steering wheel is also available.
An integrated second-row booster seat, 20-inch and 22-inch wheels, metallic paint, and a dark headliner are individual options. All-wheel-drive is optional and also includes heated front seats, with heated rear seats and a heated steering wheel optional.
T6 models, with six or seven seats, add a 316-horsepower, supercharged and turbocharged 2.0-liter four-cylinder engine, all-wheel-drive, leather upholstery, and built-in navigation. T8 models add a 400-horsepower, supercharged and turbocharged 2.0-liter four and electric motor and driver alert control.
The R-Design starts from $57,095 MSRP. It adds or replaces on the T5 Momentum the Harmon/Kardon audio system, built-in navigation, Nappa leather upholstery, second-row side window sunshades, stitched dashboard top and upper door panels, illuminated sill plates, 20-inch alloy wheels, and specific R-Design styling including a gloss-black grille, aluminum roof rails, black side mirror caps, and redesigned front and rear bumpers. T6 and T8 models are also available, but only with seven seats.
The Advanced Package includes those features as well as a surround-view camera, head-up display, active bending headlights, front parking sensors, and a headlight cleaning system.
Options include all-wheel-drive on T5 models, as well as 22-inch wheels, metallic paint, heated rear seats and steering wheel, integrated booster seat, a self-parking assist feature, and carbon fiber trim for the interior. T6 and T8 models are also offered with a 19-speaker Bowers & Wilkins audio system and air suspension with adjustable ride height and a pre-programmed off-road setting.
The Inscription starts from $63,595 MSRP. It adds or replaces to the R-Design the T6's engine and standard all-wheel-drive system, heated front seats, a chrome grille and exterior trim, 19-inch wheels, ventilated front seats, and wood interior trim. T8 models add standard 20-inch wheels. A six-passenger version is optional.
In addition to the Advanced Package, the Luxury Package adds heated rear seats, a heated steering wheel, backrest massage for the front seats, leather-wrapped sun visors and grab handles, and a simulated suede headliner. Individual options are an integrated booster seat (seven-seat models only), metallic paint, 21-inch wheels, a dark headliner, Bowers & Wilkins audio system, self-park assist, and air suspension.
---
More Photos
See more 2020 Volvo XC90 photos here.