Autolist rating: 3/5
But would we buy it? Sure
Price range: $68,150 - $163,250, including destination but before options
---
Key takeaways:
Porsche's third-generation model was all-new for the 2019 model year.
Shares a platform with a variety of VW Group SUVs, including the Audi Q7, Bentley Bentayga, and Lamborghini Urus.
Available with a wide variety of turbocharged six and eight-cylinder engines, plus a plug-in hybrid variant and a group of sleeker four-door coupe versions.
Lives up to the Porsche name, thanks to taut and responsive handling.
Gets expensive very quickly.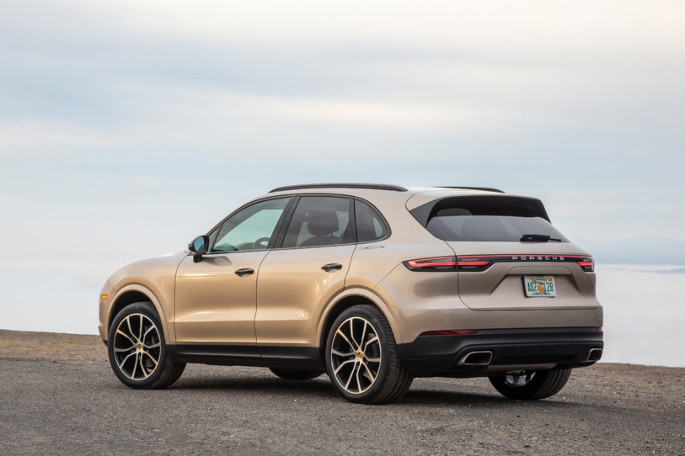 ---
What is it?
The Cayenne is Porsche's four-door, five-passenger, midsize luxury performance crossover, one of the earliest crossovers from a traditionally car-focused brand. This third-generation Cayenne was redesigned from the ground up for the 2019 model year, and it shares a platform with a variety of VW Group vehicles, including the Bentley Bentayga, Lamborghini Urus, and Audi Q7.
The Cayenne is available with a wide range of powertrains, hence the wide range in price. We tested the base Cayenne model, on top of which there are the E-Hybrid, S, Turbo, and Turbo S E-Hybrid variants.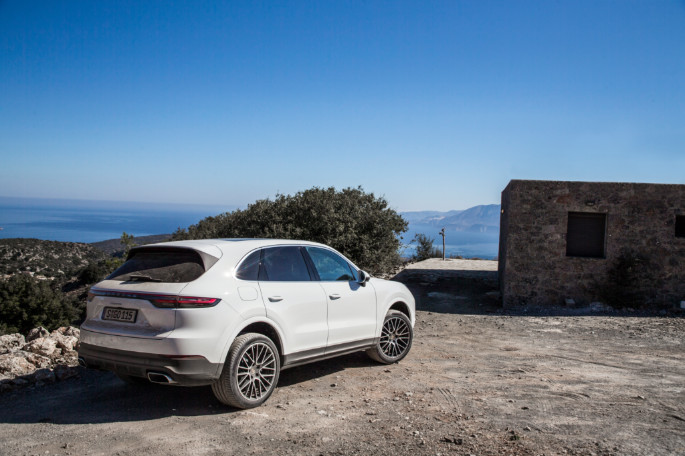 The base Cayenne is powered by a 3.0-liter turbocharged V6 that makes 335 horsepower and 332 pound-feet of torque. It comes standard with all-wheel-drive and an eight-speed automatic transmission. Additional models come with this engine plus an electric motor, a twin-turbo V6, a twin-turbo V8, and a twin-turbo V8 plus electric motor.
Porsche also makes the Cayenne Coupe, a four-door model with a fastback silhouette and less cargo space, for buyers who prioritize looks and performance over functional space.
The Cayenne is larger than Porsche's compact Macan crossover.
---
What's good?
TLDR: Handles like you want it to, perfect size, impeccable interior.
Porsche-worthy handling Porsche's engineers did the brand a solid when tuning this Cayenne's handling and road manners. Despite being an SUV, this is a surprisingly eager and responsive vehicle, one that can out-handle many lower sport sedans with similar power. The best part? This engagement doesn't come at the expense of everyday comfort and drivability. This Cayenne packs plenty of that too.
Slick interior: Porsche is currently on top of its game when it comes to interiors, particularly the center console, instrument panel, and dashboard layout, materials, and execution. This Cayenne's interior is no exception. It's a future-looking, luxurious, and tightly bolted together.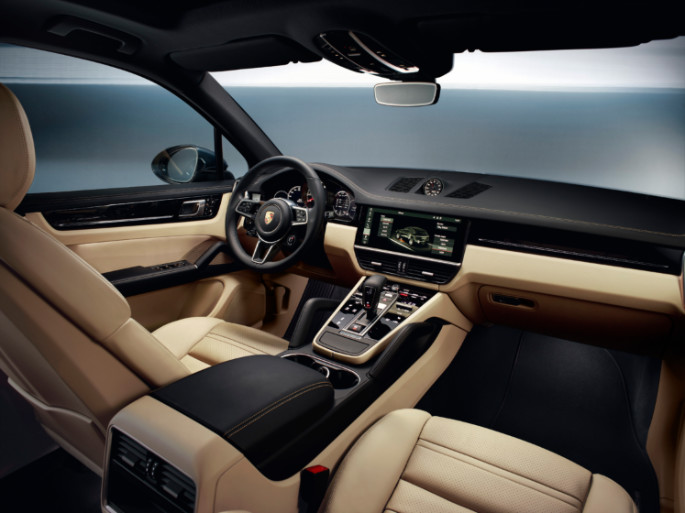 Smart size: Big enough to haul the family and their stuff, small enough to handle well (see above), and fit into tight parking spaces. In an era when SUVs are increasingly growing almost too big, this one is the perfect Goldilocks zone for size.
---
What's bad?
TLDR: Pricey with any options, base model looks like it.
Gets expensive quickly: Our tester started at a cool $65,000, which is a little closer to the higher end of prices for this segment. And then the options started, many of which felt like they should be standard. Things like $3,750 for a full leather interior, $6610 for a premium package that added stuff like a Bose sound system, 14-way power seats, a panoramic roof, LED dynamic headlights, heated front seats, and lane-change assist. Out the door, our tester stickered for about $81,000. That's a lot.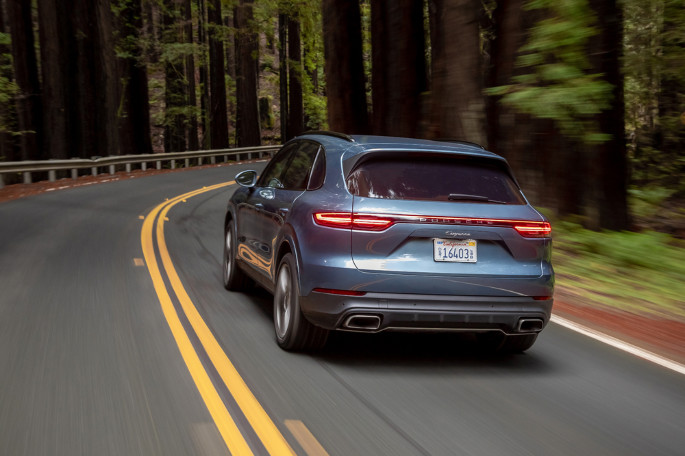 Base model feels like it: Not only did our base tester get pricey, but it still looked like a base model, even after climbing to $81,000. We were hoping for sexier wheels or headlights even, something to give the Cayenne some visual pizzazz to back up its handling credentials and price tag. No dice. It's the 'cheap' version, and you could tell.
---
5 stars of execution
Safety Features? YES
This was a close call. We liked that all Cayenne models come standard with front and rear parking sensors and a 360-degree camera system, as well as pre-collision alerts and braking.

But we were disappointed that this Cayenne – at any price – doesn't come standard with safety tech like adaptive cruise control or lane-keep assist -- instead, these are options or part of option packages.

The Cayenne hasn't yet been crash-tested by NHTSA or IIHS yet though it's likely that it will get a five-star crash rating from NHTSA and models with optional headlights will get a Top Safety Pick Plus designation from IIHS.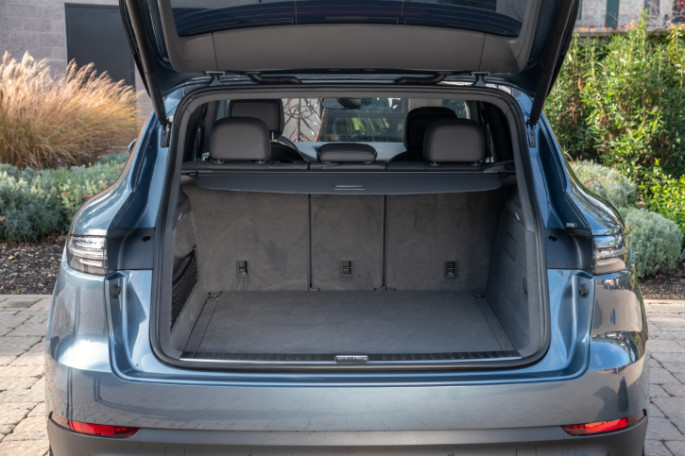 Value? NO
As we've mentioned, this Cayenne doesn't pack a punch when it comes to value (though it's true that most Cayenne buyers aren't concerned about value).

Most of its competitors (BMW X5, Mercedes-Benz GLE, Range Rover Velar, and Sport) either offer more content for similar money or a lower sticker price.
Efficiency? NO
The base Cayenne we tested was rated by the EPA at 19/23/20 MPG city/highway/combined.

That's not great, especially compared to nearly all of its rivals.

In our testing, we averaged 16.3 MPG in mixed city and highway driving.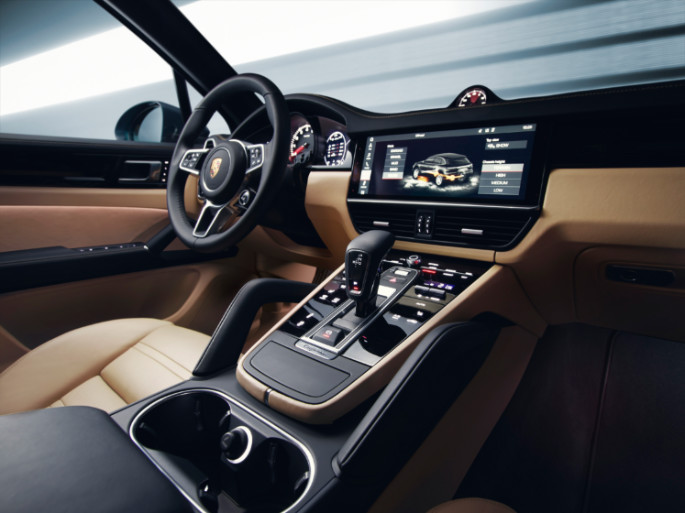 Driving experience? YES
As we've mentioned, this was the best part of the Cayenne: that you could have a luxury SUV and a great-handling vehicle in the same package.

Not only was it sporty and engaging to drive, but it was simultaneously comfortable and serene; too often, performance SUVs make you choose between the two.
Execution? YES
Roughly two decades ago, Porsche's Cayenne was among the first luxury SUVs to be introduced by a brand known for cars. In the years since, the Cayenne has maintained its benchmark status as the driver's choice of luxury crossover models.

It's thrilling and comfortable to drive on a daily basis, offers a gee-whiz interior and refinement, and is sized right for a wide variety of buyers.

These strengths make it easier to overlook the aforementioned shortcomings.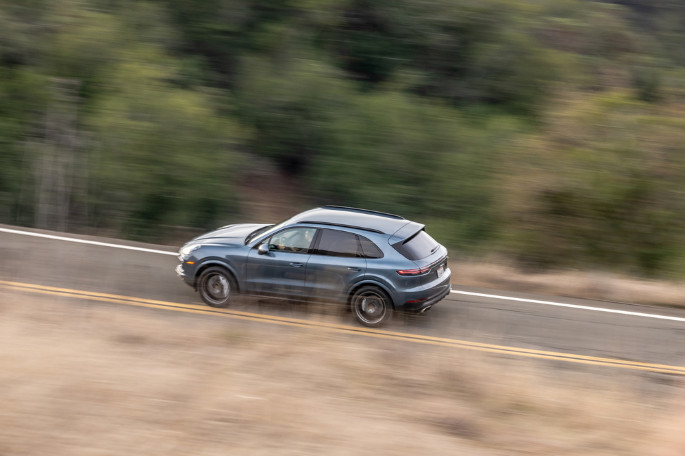 Total Rating: 3 stars
---
What's it gonna cost me?
As we mentioned, the Cayenne family includes a wide range of models, both in the standard SUV shape and Porsche's newer Cayenne Coupe iteration.
We tested the base Cayenne, which starts at $68,150, including destination.
This model comes with a 3.0-liter turbocharged V6 with 335 horsepower, an eight-speed automatic transmission, and standard all-wheel-drive. Other standard goodies include LED headlights and taillights, 19-inch alloy wheels, a 10-speaker, faux-leather seats, 150-watt stereo system, the aforementioned parking sensors and 360-degree camera system, and automatic emergency braking system with pedestrian detection.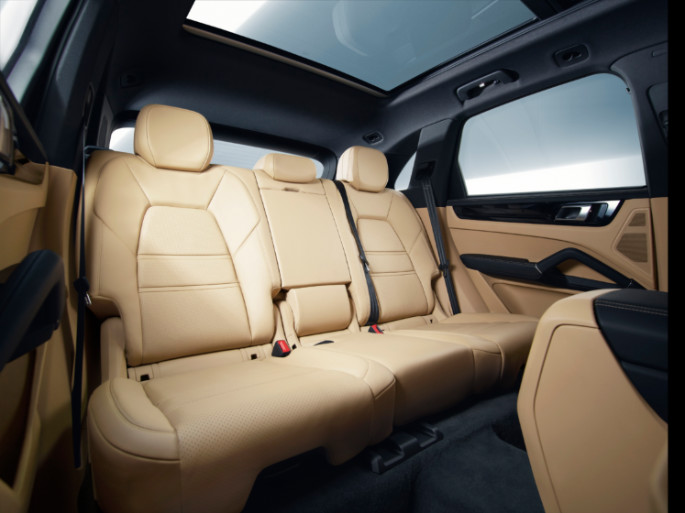 Our tester then added things like an all-leather interior ($3,750), Porsche's active suspensions management (PASM -- for $2,000), unique 19-inch wheels ($600), the $1,130 Sport Chrono package (which adds a Sport + vehicle setting, a steering-wheel-mounted button to toggle between drive modes and a Sport Response button that activates a 20-second burst of high-performance settings), and the $6,610 Premium Package (Bose surround sound stereo, 14-way power front seats with memory, panoramic sunroof, lane-change assist, and heated front seats).
Above the base model we tested sit the following models:
The Cayenne E-Hybrid starts at $82,450.
The Cayenne S starts at $85,650.
The Cayenne Turbo starts at $127,850.

The Cayenne Turbo S E-Hybrid starts at 163,250.
---
Also consider:
The Cayenne plays in a competitive luxury crossover segment chock full of excellent choices and stiff competition.
Some of our favorites include the sublime Mercedes GLE (best for those prioritizing all-out luxury), the BMW X5 (handles well, but not as good as this Porsche), the Range Rover Velar (small but handsome) and Sport (larger but aging), and Jaguar's F-Pace (poor reliability but good value).