Autolist rating: 5/5
But would we buy it? Yes
Price range: $19,535 - $21,865, including destination but before options
Key takeaways
Nissan's entry-level crossover was introduced as an all-new model for 2018
Mixes good power with great fuel economy
No all-wheel-drive option, unlike some of its rivals
An excellent all-around choice in the subcompact crossover segment
---
What is it?
The Kicks is a subcompact crossover from Nissan that was first introduced for the 2018 model year.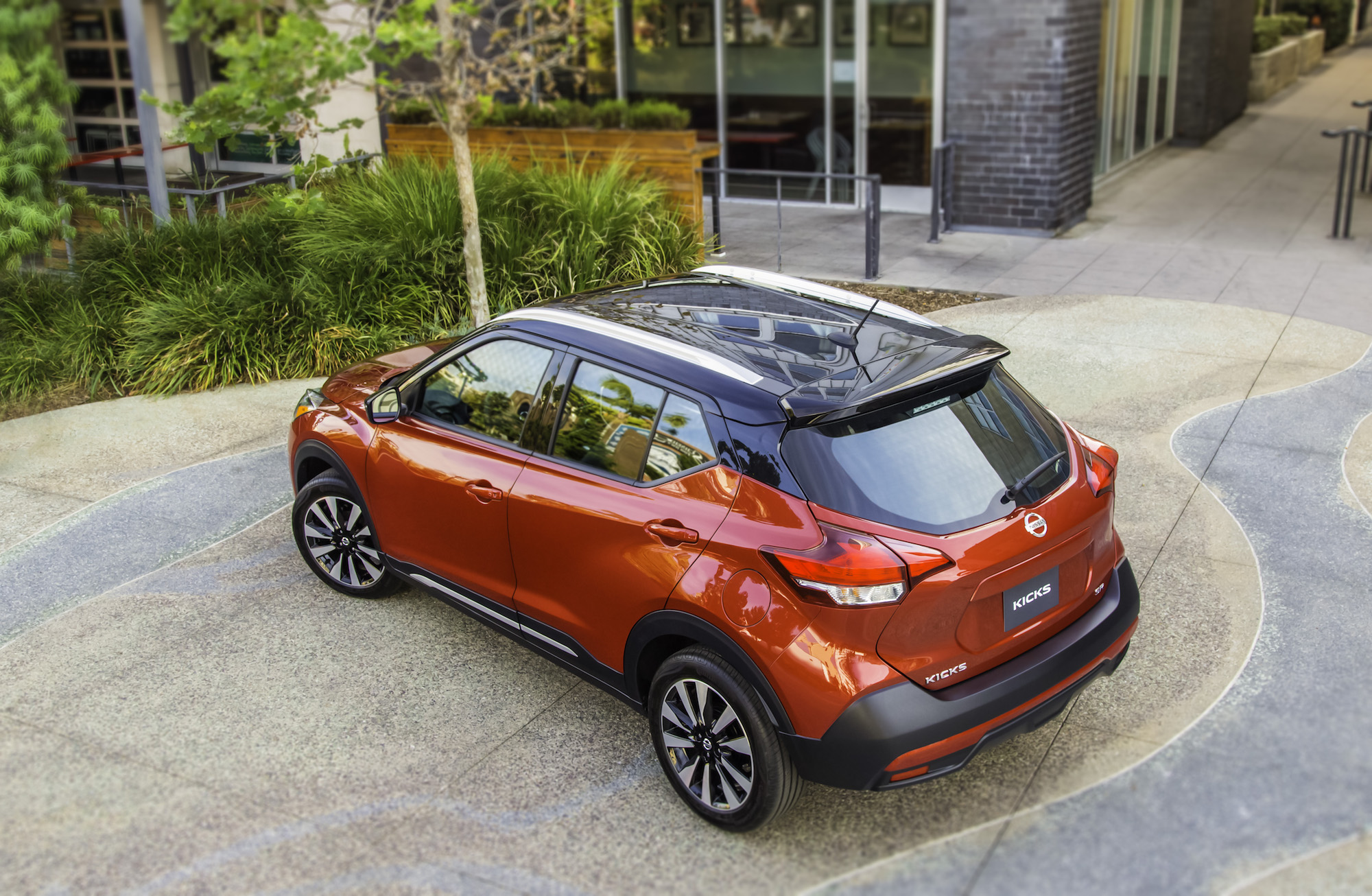 It's the smallest and cheapest crossover Nissan builds; the rest of the lineup consists of the compact Rogue Sport and larger Rogue, the luxury-minded Murano, the three-row Pathfinder and full-size Armada beheamoth.
The Kicks competes against models like the Ford EcoSport, Chevy Trax, Toyota C-HR, Honda HR-V, Jeep Renegade, Hyundai Kona, Kia Niro and Mazda CX-3.
It comes standard with a 1.6-liter four-cylinder engine that makes 122 horsepower and 114 pound-feet of torque. This power is sent to the front wheels via a CVT gearbox (the Kicks is front-wheel-drive only, no all-wheel-drive is offered).
There are three trim levels on the Kicks: S, SV and SR. They range in price from $19,535 to $21,865.
---
What's good
TLDR: Good acceleration, great size, sips gas
The drive. Ok, so don't take it to the drag strip on the weekend, but the Kicks offers a healthy amount of acceleration from its small four-cylinder engine engine. All models come standard with 122 horsepower, which is less than nearly all of its rivals. But the only time this becomes is high in the engine's RPMs when you're really leaning on the gas. In normal daily driving, it was more than fine.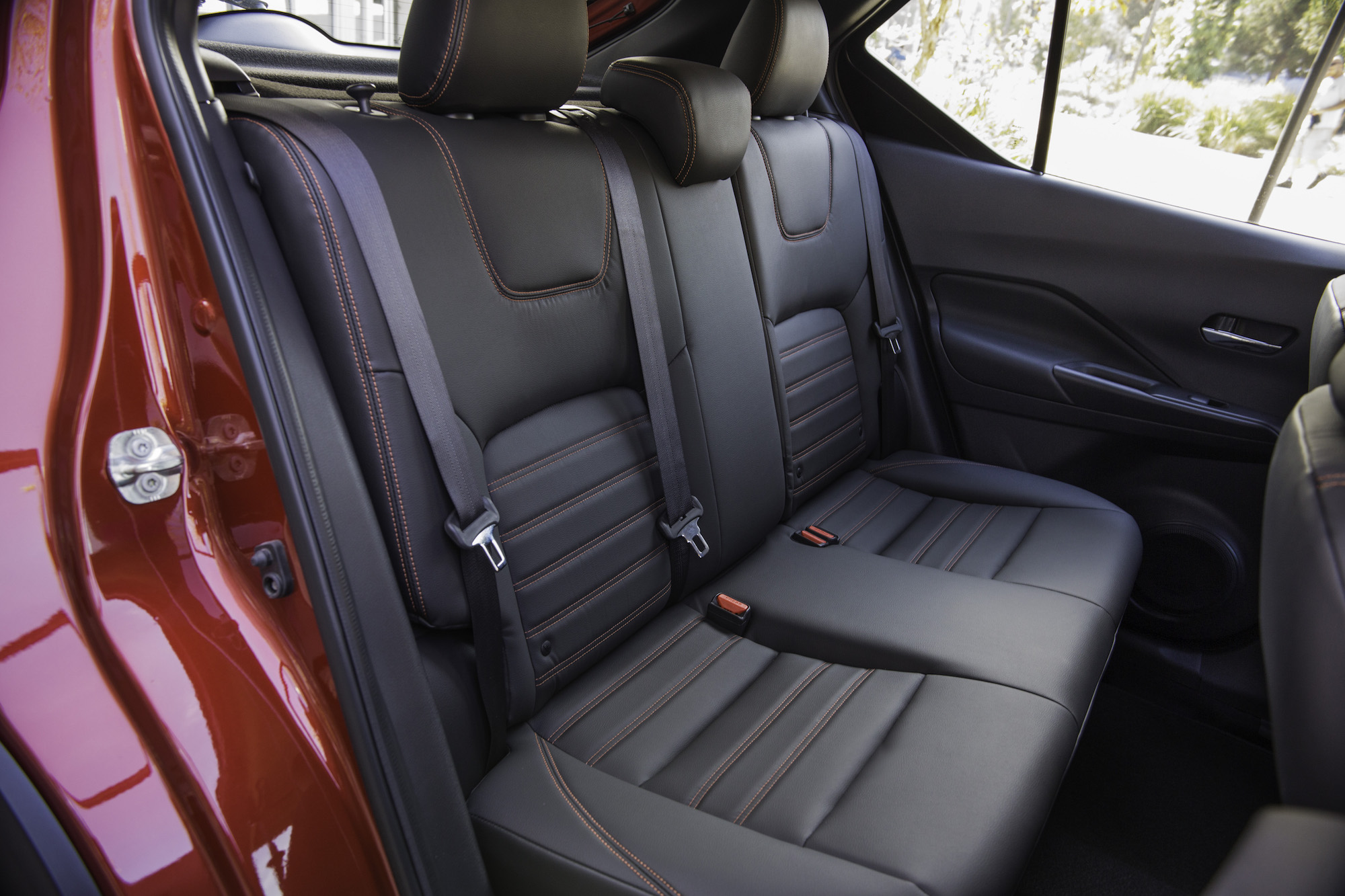 The size. The Kicks manages to give you the best of both worlds. It's a small vehicle with a tight turning radius so it's easy to park and maneuver in tight situations. BUT it promises plenty of interior space for both passengers and cargo. And unlike other vehicles in this small segment, the Kicks gives you plenty of room for tall passengers in the rear seats. That's a crucial win-win for us.
Efficiency. With a small engine and a light curb weight, the Kicks manages to be one of the most fuel-efficient models in this segment, easily beating rivals from Honda, Toyota and Ford.
What's bad
TLDR: Awful steering, no AWD, funky style.
The steering system. This was our biggest complaint about the Kicks: its numb and unresponsive steering system. We test hundreds of vehicles a year so we're used to adapting to a new steering feel, but the Kicks took longer to get used to than any vehicle in recent memory. The steering always felt numb and disconnected from the front wheels and it seemed to override or ignore smaller inputs at times. So test drive the Kicks in a variety of situations to make sure you could live with it.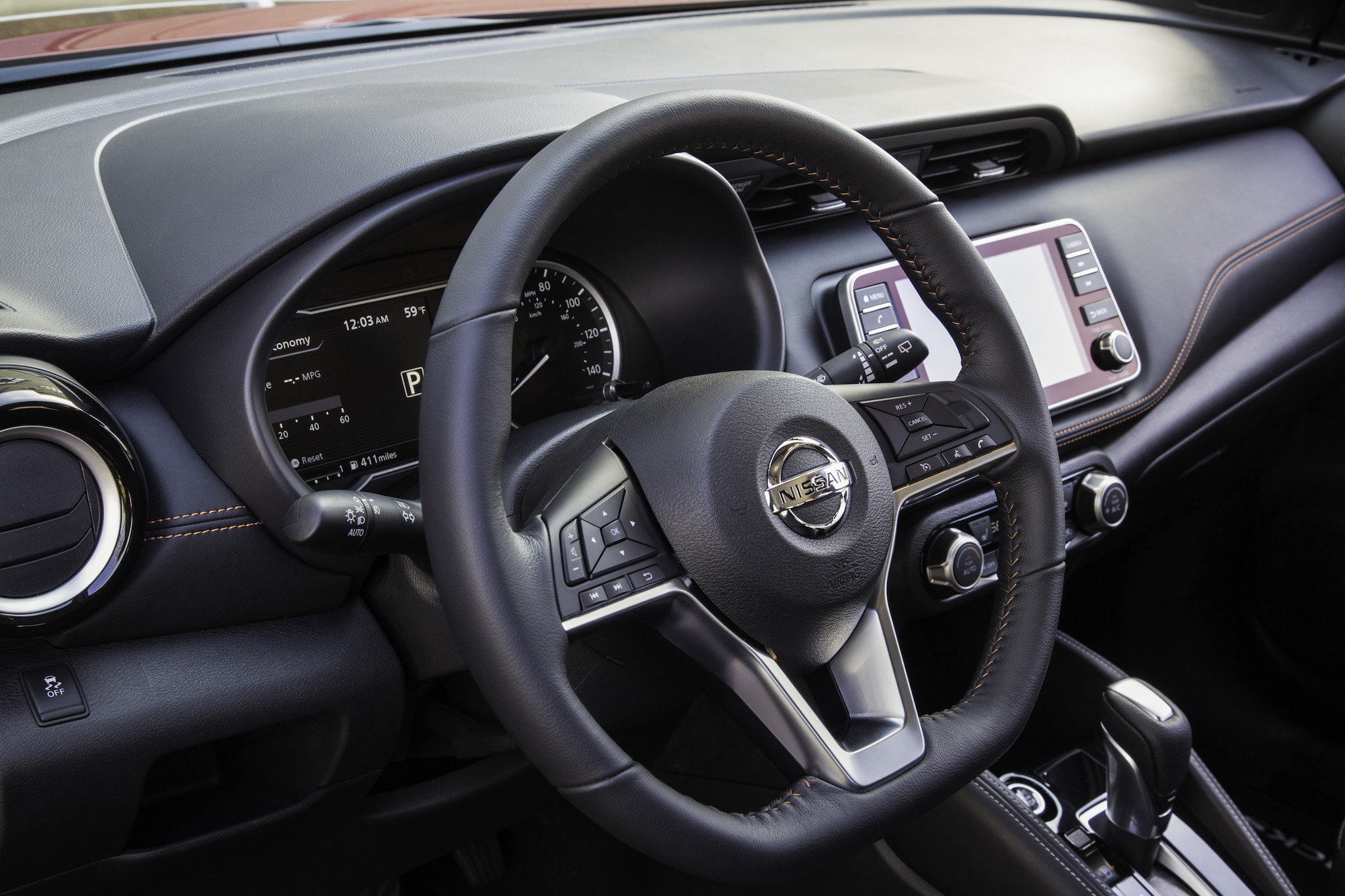 No all-wheel-drive. Unlike some of its competitors (Chevy Trax, Ford EcoSport, Honda HR-V, Jeep Renegade) the Kicks comes only in front-wheel-drive; no all-wheel-drive option is available. This is a bummer for people in colder, snowier climates who are looking for dependable traction in their bite-sized crossover.
Exterior styling. We didn't love the looks of the rear end or the Kicks' silhouette; both seemed ungainly when compared to rivals like the Mazda CX-3. Not a deal breaker though.
---
5 stars of execution
Safety Features? YES
The Kicks is rated by the independant Insurance Institute for Highway Safety as a Top Safety Pick; it has yet to be crash-tested by NHTSA.
All models come standard with automatic pre-collision warning and braking.
The SV and SR models add blind-spot monitoring and rear cross-traffic alert and the SR has a 360 degree parking camera.
Value? YES
Because the Kicks is in a value-conscious segment, Nissan worked hard to give it a healthy bang for your buck.
Regardless of which trim level you choose, there are enough amenities with each one that buyers won't feel like they're in a cheapo penalty box just because the opted for Nissan's entry-level crossover.
Efficiency? YES
The Kicks is rated by the EPA at 31/36/33 MPG city/highway/combined.
That's significantly better than nearly every competitor the Kicks faces, including models from Toyota, Honda, Ford, Chevy and Mazda. Thanks here to the low curb weight and small engine.
Driving experience? YES
With a light curb weight and good acceleration, the Kicks was an easy daily driver.
It also has a nice ride height and visibility from the driver's seat, yet it's super easy to get in and out of.
As we mentioned, our biggest gripe was the Kicks' steering. Though we did eventually get used to it, we never ended up liking it.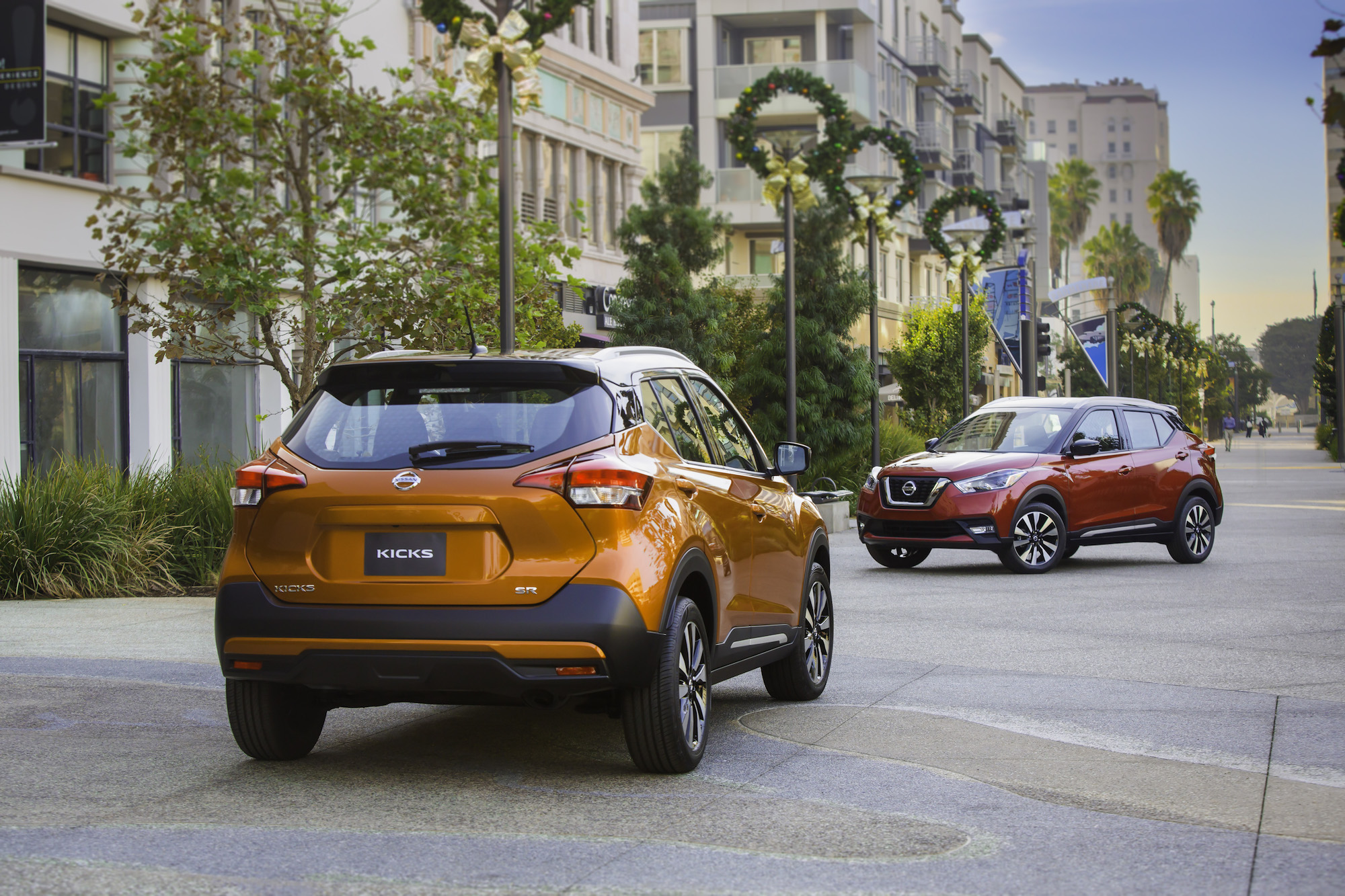 Execution? YES
Overall Nissan did a great job with the Kicks.
It's a well-rounded vehicle that does everything well; it's comfortable, practical, safe and easy to live with every day.
We just wish it came in AWD too, though a good set of snow tires should make buyers in snowy climates perfectly happy.
Total Rating: 5 stars
---
What's it gonna cost me?
As mentioned, there are three trim levels on the Kicks.
The S starts at $19,535 and comes with a seven-inch touchscreen display for the infotainment system, Bluetooth connectivity, automatic emergency braking, push-button start, steering wheel-mounted controls, a backup camera and power mirrors.
The SV starts at $21,245 and adds to the S things like Apple CarPlay and Android Auto connectivity, a seven-inch digital display in the instrument panel, blind-spot monitoring, rear cross-traffic alert and 17-inch alloy wheels. This would be the model we'd opt for since it adds some safety tech and extra connectivity without breaking the bank.
The higher-end Kicks SR starts at $21,865 and adds to the SV LED headlights, fog lights, heated outside mirrors, leather-wrapped shift knob and steering wheel, rear roof spoiler and a nifty 360-degree parking camera.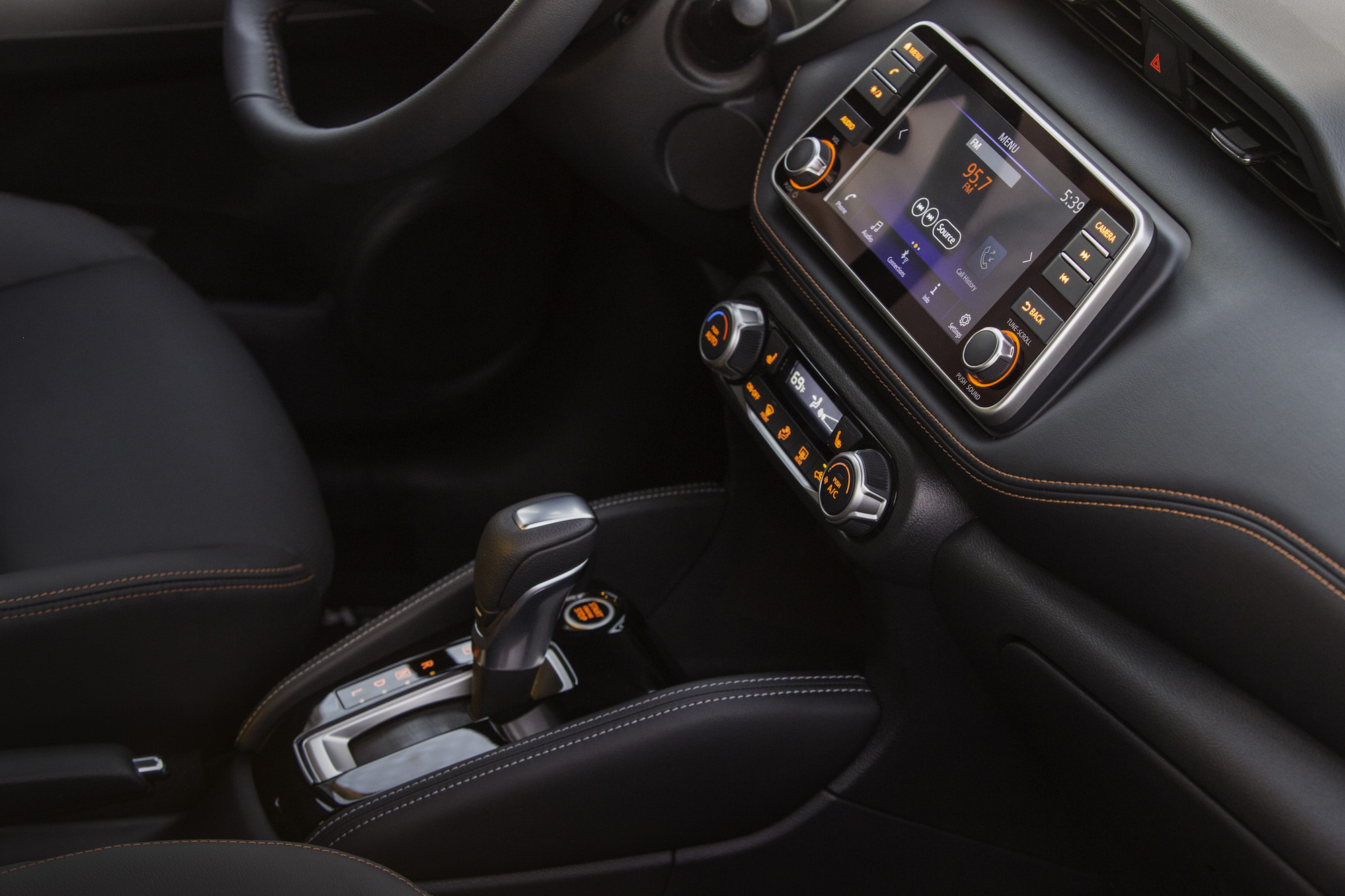 ---
Also consider
The Kicks is in a busy class of bite-sized crossovers that's getting more competitive with each year. While this Nissan is one of our favorites, here's a look at how some of its peers stack up.
Our favorite in this segment is the Honda HR-V for how well it manages cargo space inside. It's also available with optional all-wheel-drive and a variety of other higher-end options that aren't available in the Kicks.
Hyundai's Kona is another one of our favorites for its all-around execution. Ditto for its mechanical cousin, the Kia Niro.
Toyota's oddball C-HR is front-wheel-drive like the Kicks and it too is aimed at the more urban buyer rather than an all-around vehicle like the Honda HR-V or Jeep Renegade. It's perfectly fine as a daily driver though rivals promise more interior space.
Chevy's Trax is a handsome alternative with a quiet, comfortable interior. But its fuel economy isn't great and it's getting a little old at this point. Still, it's definitely worth a look.
Skip Ford's EcoSport. It's a model that was designed for foreign markets and then brought to the U.S. halfway through its lifespan. The materials inside are cheap, the styling is oddball, it can be pricey when loaded and the large rear door swings to the side rather than opening upwards, a quirk we found annoying when we tested it.
Mazda's CX-3 is one of the best-looking models in this segment but it's too small to suit our needs.