The Mercedes G Class (aka G Wagon) did not arrive in the American market until 2002, but its basic design dates back to 1979. The Mercedes G Wagon is considered a large luxury SUV, known for its distinctive boxy shape, truck-like ride and upscale interior. The 2019 all-new G-Class was introduced at the 2018 Detroit Auto Show and is expected to start the second generation.
2019 - Present Mercedes G-Class (2nd generation)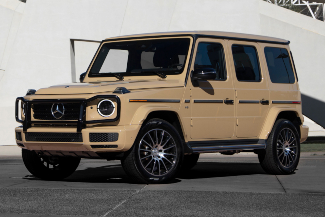 This new generation was the first significant update to the G Class since the model was introduced decades ago. The model is wider and taller than its predecessor, with more ground clearance. Interior refinement has been dramatically increased, with Mercedes fitting it with its full slate of luxury amenities.
This model sheds 375 pounds thanks to a lighter steel frame and aluminum body panels.
The front axle is now an independent suspension design, while the rear remains a solid axle.
Like the end of the earlier generation, two version of the G Class will be available at launch. The G550 uses a 4.0-liter, twin-turbocharged V8 that's carried over from the previous model; as before, it makes 416 horsepower and 450 pound-feet of torque. It's paired with a nine-speed automatic transmission.
The G63 AMG model has the same 4.0-liter V8 but it's tuned to make 577 horsepower and 627 pound-feet of torque.
2002-2018 Mercedes G-Class (U.S. Models 1st Generation)
The Mercedes G-Class, known widely elsewhere and among enthusiasts as the G-Wagen or Galaendewagen, finally came to the American market for the 2002 model year. It was introduced abroad in 1979 and garnered a cult following both abroad and on the American gray market.
Mercedes imported the premium G500 version of the G-class, which was a four-door, hardtop SUV with a distinctive boxy shape much like a military vehicle. It was packed with standard luxury features of the time, including a navigation system, nine-speaker audio and six-disc changer, plus power everything, a sunroof and leather and wood interior.
The G500 had a 5.0-liter V8 engine that produced 292 horsepower and 336 pound-feet of torque. The top torque levels were made below 3,000 rpm, which meant quick acceleration and rugged off-road capability. The V8 also featured clean operation with two spark plugs and three valves in each cylinder, which made sure that it met even the strictest emission standards of the time. The engine was paired with a five-speed automatic transmission.
For 2003, the G-Class added an AMG 5.4 liter V8 that put out an increased 349 horsepower.
For 2004, standard equipment included a Harman-Kardon audio system, rear parking sensors and multicontour front seats.
For 2007, minor changes came in the form of LED taillights, a new instrument cluster, four-spoke steering wheel and bi-xenon headlights. The G500 was upgraded to a seven-speed automatic transmission and the G55 AMG's 5.4-liter V8 now made 493 horsepower, though it retained the five-speed automatic transmission.
2009 Refresh Mercedes G-Class and 2012 Edition Select Mercedes G-Class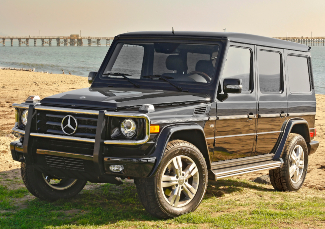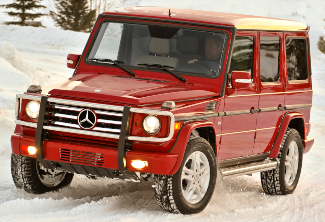 Still looking much the same as when it was first introduced in America, the 2009 version got what amounts to a mild update. The G550 replaced the previous G500 trim level and added a 5.5-liter V8 with 382 horsepower.
The G55 AMG trim also boosted power with its 5.5-liter supercharged V8 now putting out 500 horsepower.
Both trims featured a new grille design and some small tweaks in the interior. Transmissions remained the same since the last update and both trims have standard four-wheel drive paired with a two-speed transfer case.
In 2012, the G55 AMG model was discontinued and somewhat replaced with a new package called the Edition Select. This G-Class included some of the G55's interior and exterior styling.
In 2013, the G-Class was back to two trims with the G550 and the new G63 AMG.
The G63 came standard with 20-inch wheels and a twin-turbocharged V8 that produced 536 horsepower and 561 pound-feet of torque. Towing capacity for both trims was 7,000 pounds. The interior was somewhat updated here as well with new electronics and more safety features.
Fuel economy continued to be fairly poor with 12/14/13 in city, highway and combined for the G63. However, the vehicle was able to both move quickly at zero to 60 in 6.6 seconds and stop quickly at 127 feet from 60 mph.
In 2016, the AMG G65 model was introduced with a twin-turbo V12 engine. Also for this year, the G550 got a new 4.0-liter turbocharged V8 engine that put out 416 horsepower. Other updates included exterior tweaks and an optional adjustable suspension.
2017 - 2018 Mercedes G-Class Generation End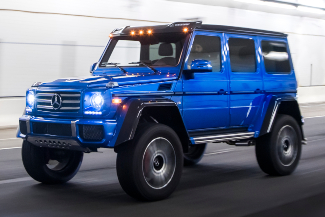 As of 2017, the G-Class was offered in four trim levels with the G550, AMG G63, AMG G65 and G550 4x4 squared. All four trims had a seven-speed automatic transmission, full-time four-wheel drive, two-speed transfer case and three locking differentials with a 7,000-pound towing capacity.
The G550 engine remained unchanged for 2017 and 2018, but the G63 got up to 563 horsepower for this period. The G65 V12 also remained unchanged.
The new 4x4 squared has the 4.0-liter V8, but adds increased ground clearance, plus 22-inch wheels, large tires, skid plates and fender flares. It was undoubtedly designed with hardcore off-roading in mind. Each wheel has portal axles, dual coil springs and struts, and it offers 22 inches of ground clearance and 40 inches of wading depth.