Vehicle Type: Mid-size three-row crossover SUV
Price Range: $36,855 - $48,785
Powertrain: The 2022 Mazda CX-9 comes with one powertrain option for all six of the available trim levels.
This 2.5-liter turbocharged four-cylinder engine puts out specs like 227 horsepower and 320 pound-feet of torque and comes standard in all-wheel-drive running through a six-speed automatic transmission.
While this is a smaller engine option than some other comparable SUVs have, it still gets a zero to 60 time of just 7.1 seconds, which is up towards the top of the competition in its class.
---
What's New for 2022?
For the 2022 model year, the only change the CX-9 saw was the addition of a Touring Plus trim, which adds some comfort- and style-oriented features to the standard Mazda CX-9 Touring model. These include power seat adjustments, black grille trim, ventilated front seats, and a frameless rearview.
The only other difference between this model year and others before it is the standardization of AWD instead of it simply being an option along with front-wheel-drive as it had been in previous years.
---
What's Good?
Near-luxury features on some of the higher trims and even the base models feature comfortable seats and a stylish interior
Performance-oriented chassis that is incredibly sporty and closer to a sports sedan than a family crossover. This makes it a great choice for people who want the best of both worlds when it comes to their everyday driver
Five-star safety rating overall from the NHTSA, building on the reputation of the previous model year, which received the Top Safety Pick award from the organization
Comprehensive suite of safety features including standard rear cross-traffic monitoring, adaptive cruise control, lane-keeping assist, blind-spot monitoring, and automatic emergency brakin
User-friendly infotainment system with full connectivity that is easy to navigate and customize, plus it includes features like Mazda's Connected Services, which allows access to things like remote start and keyless entry
What's Bad?
Interior cargo space is somewhat limited due to the low, sedan-like profile of the CX-9, with only 71.2 total cubic feet available in the whole vehicle
AWD configuration makes for a less fuel-efficient vehicle with an EPA estimated 20 mpg city and 26 mpg highway
Only one engine is available for all trim levels, which can limit your options for driveability and fuel efficiency, both of which are becoming more important as technology and expectations change in the vehicle market
Would we buy one? Absolutely! This is a near-luxury crossover that's aged very well and drives better than anything else in its segment.
---
More Photos:
See more 2022 Mazda CX-9 Photos.
---
Overview: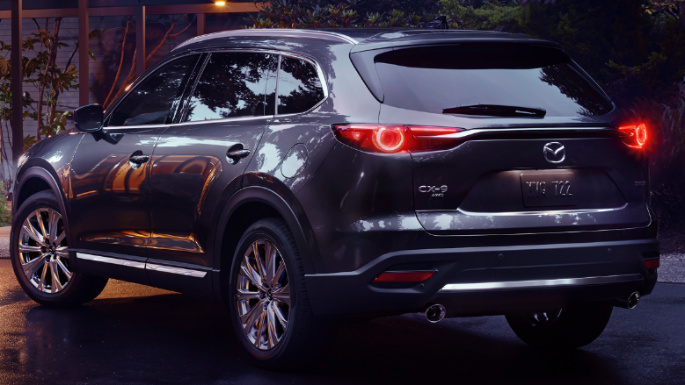 The Mazda CX-9 is a midsize, three-row SUV, which has been in production since 2006. One of its clearest mission statements is that it is closer to a sports sedan than a family SUV and this is made very clear with the powerful engine and quick, responsive steering and handling. If you are looking for an SUV that will deliver more than practicality, the CX-9 is a great place to start your search.
The Mazda CX-9 features a turbo four-cylinder as the sole powertrain for every trim level. This 2.5-liter powertrain boosts the lackluster fuel economy without having to sacrifice too much power and acceleration. The CX-9's engine puts out 227 horsepower and 320 pound-feet of torque, which is much more than you might expect from a crossover in this price range and category. The fuel efficiency, however, suffers from the higher output with a city mpg of just 20 and a highway mpg of 26.
The interior of the CX-9 is where it really starts to shine and show what it is truly meant for. With premium materials and impressive build quality, the CX-9 features a heated steering wheel, leather upholstery, and lots of details and trim in brushed aluminum and graining. In some trims, such as the Signature edition, the interior features genuine rosewood. The cabin of the CX-9 doesn't have much in the way of space, though, and even with the optional second-row captain's chairs, you may find yourself with less-than-ideal elbow room. However, the second-and third-row seats both fold down to make maximum use of the space that the CX-9 does have.
It is also heavy on upscale tech features such as a 10.3-inch touchscreen infotainment system with Apple CarPlay, Android Auto, and Bluetooth connectivity as a standard feature. If you want, you can also upgrade the standard stereo system to a high-end Bose 12-speaker system. Other available upgrades include a power front passenger seat, heated second-row seats, an auto-dimming rear view, and much more.
---
Overall Score: 4/5 stars
Safety Features: 5/5 stars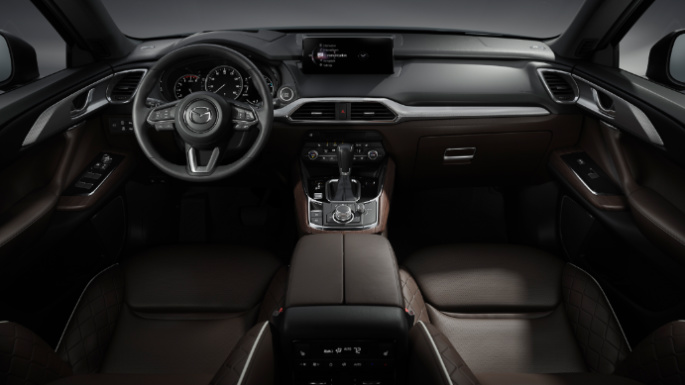 The 2022 Mazda CX-9 comes with a large suite of standard safety features that would usually be reserved as optional equipment on other vehicles.
Standard safety features include emergency automatic braking with pedestrian detection, adaptive cruise control, lane-departure warning with lane-keeping assist, and automatic high beams.
The 2022 CX-9 has also received a perfect five-star rating from the National Highway Traffic Safety Administration.
The previous model year of the CX-9 won the National Highway Traffic Safety Administration's Top Safety Pick award, and this year's model is expected to do the same.
Additional safety features are available as well, including a 360-degree camera monitoring system and smart traffic sign recognition for automated emergency braking.
---
Driving Experience: 4/5 stars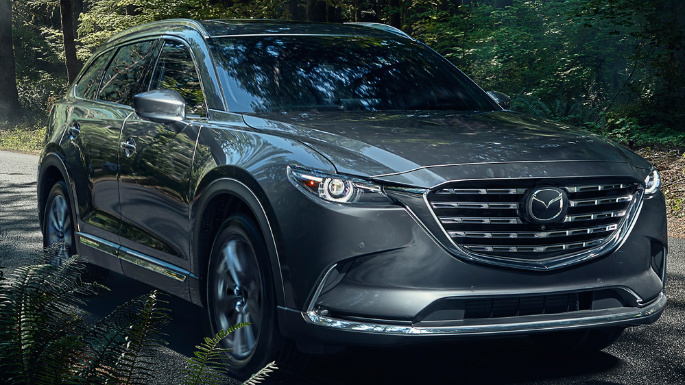 The 2022 CX-9 is designed to be as quick-feeling and responsive as possible, with handling that is much closer to a small sport sedan than a mid-size SUV.
The suspension in the CX-9 is firm and very light on its feet, making it easy to drive and more fun, especially when cornering.
This is an SUV that is designed to be more fun to drive than your average family vehicle, making it a great choice for people who are perhaps bored by the current fleet of crossovers and mid-size SUVs.
Our only complaint is that the low horsepower rating (relative to many of its peers, which have close to 300 horsepower) means you don't quite have the passing power on the freeway that you might like; in these situations this Mazda felt underpowered.
---
Value: 5/5 stars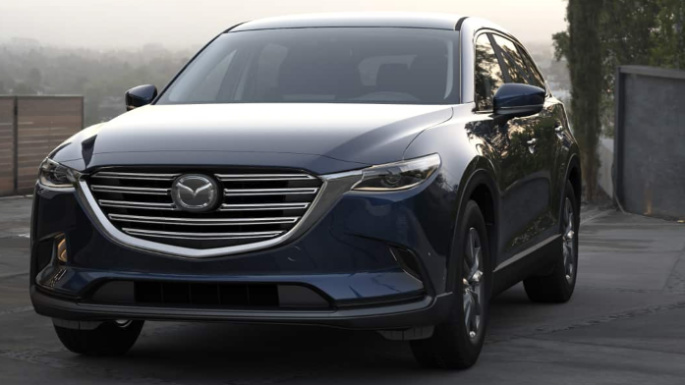 The relatively low starting MSRP of the 2022 CX-9 makes it a great choice for people who want value for their money.
The sleek, stylish exterior gives it a look that is much more upscale than you might imagine it would be for the price you would pay at the dealership.
With so many standard features, you are sure to get your money's worth without having to include any optional equipment or pay more to get the things that make an SUV worth having.
It comes with a limited warranty covering 3 years or 36,000 miles and a powertrain warranty covering 5 years or 60,000 miles, so you can be certain that you will be covered in the event of an issue coming off the factory line.
---
Tech Features: 4/5 stars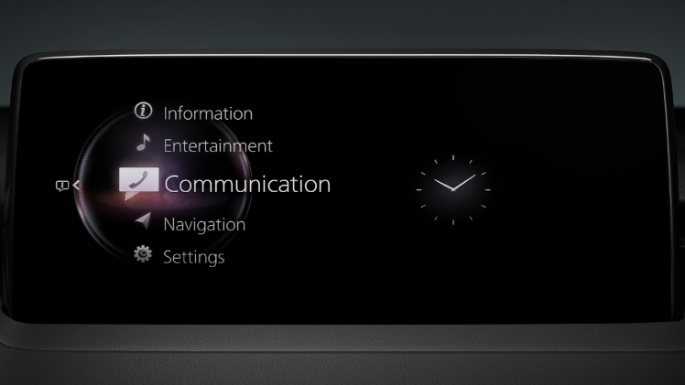 The 2022 CX-9 comes with many standard tech features that might otherwise only be available as optional add-ons with other SUVs in its class.
It features a three-zone climate control system as well as a push-button electronic parking brake and a standard eight-way power driver's seat.
The infotainment system is controlled by a 10.3-inch touchscreen display and comes with complete connectivity including USB ports, Apple CarPlay, and Android Auto. While that's a decent size on paper, we found the screen to be too narrow and small for our tastes -- especially when rivals' screens are getting bigger and bigger.
In addition to the standard suite, there are also optional tech features that come with some of the higher trim levels such as a power liftgate, front and rear parking sensors, and power-folding side rear view mirrors.
You can also add comfort features like heated rear seats and ventilated seats in the front of the cabin in some of the upper trim levels like the Grand Touring and Signature editions.
---
Practicality: 3/5 stars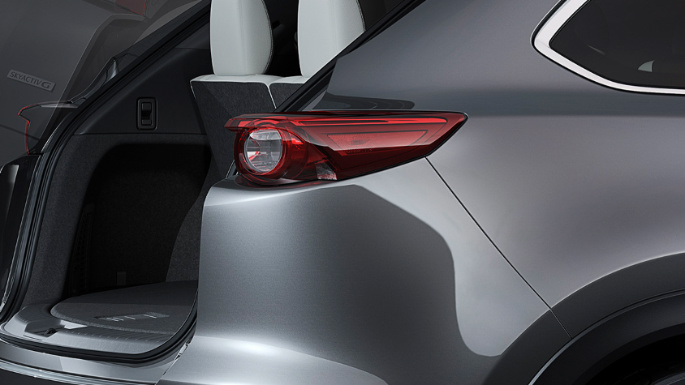 While the CX-9 is incredibly fun to drive and very stylish, this causes issues with its practicality and functionality.
The cabin suffers due to the low profile and there isn't nearly as much cargo space as some other vehicles that are in the same class.
The slightly lower fuel economy also makes it less practical when it comes to commuting or going on regular long trips.
The third-row seats will not have ample legroom for adults, especially on longer drives, and will most likely be reserved for children.
---
Styling & Design: 5/5 stars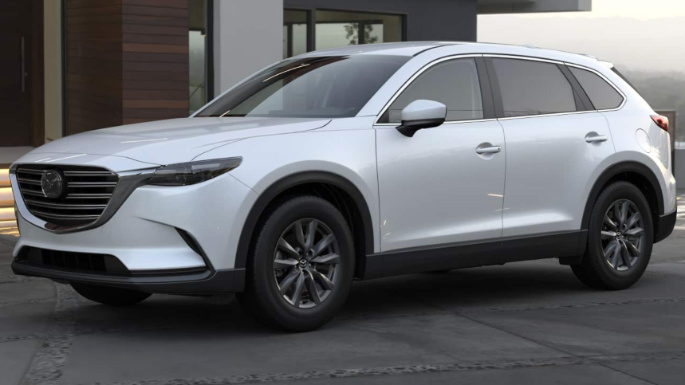 Everything about the 2022 CX-9 is meant to be stylish and surprising, from the exterior to the cabin.
The exterior look of this vehicle is much sleeker and low-profile than you would expect from a three-seater SUV in this class.
The cabin is full of high-quality materials and upscale stitching and these details bring out the premium feel that isn't present in other vehicles like the Hyundai Palisade, Toyota Highlander, or the Kia Telluride.
The only downside to the sleek, low-profile design is the lack of cargo room that results from having a lower roof and a shorter wheelbase.
---
Efficiency: 3/5 stars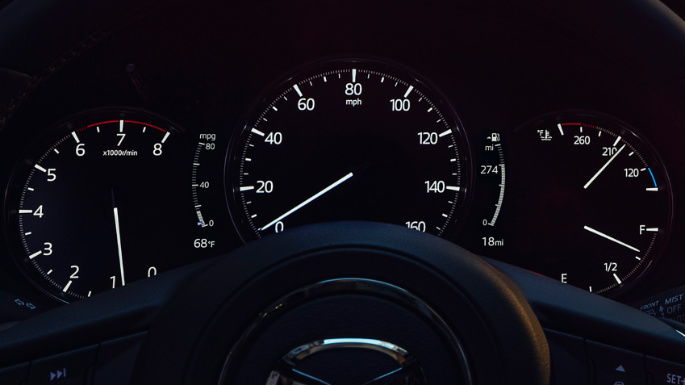 One of the arenas where the CX-9 is not as well-regarded as it is for its overall performance and comfort is in its fuel efficiency.
Getting just 20 mpg city and 26 mpg highway, the CX-9 falls between the Subaru Ascent and Volkswagen Atlas, both of which are also AWD vehicles.
Over 300 miles of testing, we averaged 18.5 MPG, no better than what its V6 competitors will get -- and those models have more horsepower at the same time.
The lack of fuel efficiency is partially due to the turbocharged engine and partially due to the fact that it is no longer available with FWD.
Since there is also only one powertrain available, there is no optional hybrid version, meaning you are stuck with the lower fuel economy no matter what trim level you decide on.
If you are not concerned with fuel economy and are comfortable making the trade-off for performance and comfort, the CX-9 could still be a good option for you.
---
What's it Going to Cost Me?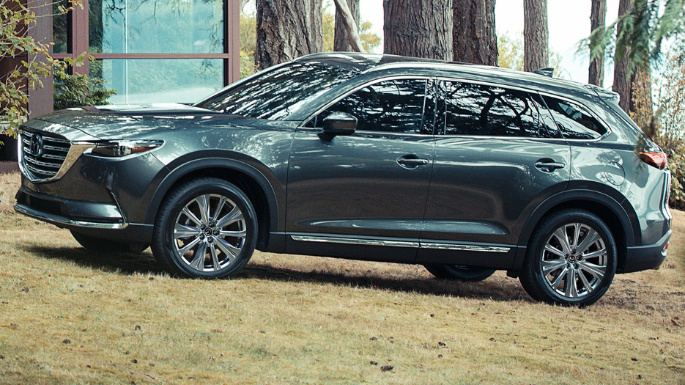 The 2022 Mazda CX-9 is available in six different trim levels: Sport, Touring, Touring Plus, Carbon Edition, Grand Touring, and Signature.
The base Sport trim level comes with all the standard features including a 10.3-inch infotainment system, cloth seats, and a second-row bench. This model starts at $36,855 including the destination charge and comes with the same 2.5-liter turbo-four engine that comes in all the different available trim levels.
The Mazda CX-9 Touring edition comes with a few extra features such as the power liftgate and keyless entry. The interior also features higher quality materials and comes with leather seating in the first and second rows. The second row also has two additional USB ports that connect to the infotainment system. This edition starts at $39,005.
The all-new Touring Plus edition has more exterior style details including a black grille and black 20-inch alloy wheels. It also has a sleek frameless rearview mirror and ventilated front seats. This new car starts at $42,085.
The Carbon Edition CX-9 has an incredibly stylized exterior with Polymetal Gray paint and chrome accent trim pieces throughout the outside. This edition also comes with captain's chairs in the second row for better maneuverability and more cargo space in the back. The Carbon Edition starts at $45,155.
The Grand Touring trim level comes with extra convenience and safety features like a 360-degree camera system and built-in navigation. It also comes with your choice of heated captain's chairs or bench seating for the second row. This edition starts at $46,015 including the destination charge.
The most comprehensive version of this vehicle, the Mazda CX-9 Signature, comes with a Titanium Gray metallic front grille with an LED lighting accent and dual exhaust for a throatier, more exciting sound. It also has Nappa leather seating in the first and second rows and a real Santos Rosewood trim in the cabin. The second row has a center console just like the one in the first row for extra storage and convenience for the people in the back. This edition starts at $48,785.
For the average driver, the Touring edition is going to have the best combination of features and value based on the asking price. For a relatively low MSRP, you get all the small extra features that make life easier such as the power liftgate and keyless entry. It also features leather seating for the lowest price, which adds to the premium feel and gives the CX-9 its upscale, near-luxury aesthetic.
---
More Photos: