This expert review is sourced from Autolist's sister company CarGurus. For the original article, please click here.
---
Overview:
The car market has evolved tremendously over the past decade. Electric cars are cool, the Corvette is mid-engine, the Mustang is an electric SUV, and Ford no longer builds sedans and hatchbacks. There are a lot of firsts and a lot of rethinks about how we drive and buy cars. But it seems no matter how much has evolved, the traditional ideals of luxury in motoring are still very much a thing.
Sure, some brands may incorporate performance as their luxury identity, but if you are Lincoln, it means elegant styling, plush interiors, and a hushed boulevard-cruising ride.
With the 2021 Lincoln Nautilus, Ford's premium brand has found a way to channel that traditional definition of luxury without feeling dated. The Nautilus is at once classically comfortable and thoroughly modern. With plenty of standard tech that is easy to use, the Nautilus is also an approachable, upscale SUV. Lincoln's approach is different from that of BMW, Audi, or Lexus.
So does taking a different path work better than trying to keep up with the overseas rivals? Read on to find out.
---
Look and Feel: 9/10
The path to the current Nautilus started in far sleepier times for Lincoln. Before it was the Nautilus, the midsize luxury SUV was the second-generation Lincoln MKX. Like the first-generation MKX, it was based on the same platform as the Ford Edge. The second-generation MKX was facelifted in 2019 when it was renamed the Nautilus. Not only did Ford move away from the confusing (and import-copying) alphanumeric naming convention, but it embraced far more attractive styling.
For 2021, the exterior carries over, but the cabin has been updated. It features a sharp new dash design that also follows Lincoln's attractive design trends. It consists of clean lines, soft materials, and a large, crisp touchscreen that rises from the center of the dash. It also features Lincoln's "Piano Key" shifter-button layout. While unconventional shifters are typically distracting, the sensible row of buttons is easy enough to use. It did take a bit of extra time to find the stop-start button (it's to the left of the shifter buttons).
The standard 13.2-inch SYNC 4 touchscreen system is gorgeous and easy to use. It's similar to Ford's SYNC 3 and has almost no learning curve. While Lincoln has gone to great lengths to differentiate this vehicle from a Ford, it didn't mess with the infotainment, which was the right choice. The screen itself is quite glossy, which reflects the ample bright work in the center console. We'd recommend keeping a pair of sunglasses in the center console at all times.
Trims for the Nautilus are Standard, Reserve, and Black Label. The Standard comes equipped with 18-inch alloy wheels, LED headlights and taillights, a power rear liftgate, push-button start dual-zone automatic climate control, synthetic leather upholstery, heated front seats, and power-adjustable front seats.
Other standard features include remote start, remote keyless entry, four USB ports, satellite radio, and a 12.3-inch fully digital instrument panel. It also comes with the aforementioned infotainment screen, which supports wireless Apple CarPlay and Android Auto. There is also the Standard I sub-trim, which adds genuine leather upholstery and onboard navigation.
The Reserve trim adds a hands-free power liftgate, genuine leather upholstery, heated and ventilated front seats, heated rear seats, heated steering wheel, a panoramic sunroof, wireless device charging, and a Revel 13-speaker premium stereo system, and ambient cabin lighting. The Reserve is also available with an upgraded engine, as well as additional driver-assistance features, massaging seats, and a rear-seat entertainment system.
The range-topping Black Label includes a standard twin-turbo V6 and standard all-wheel drive (AWD). It also adds 21-inch wheels, adaptive suspension, a 19-speaker premium stereo, smartphone-activated vehicle access, and adaptive headlights. It also comes with the most comprehensive list of driver assistance features, as part of the CoPilot360 Plus package.
Our Black Label test vehicle featured the fantastic 22-way Multi-Contour (read: massaging) front seats, cargo utility package, satin roof rails, enhanced active park assist, and active lane centering. The massaging seats are fantastic, though, with 22 potential adjustments, the combination of side-seat controls and touchscreen controls makes adjusting the seats one of the most complicated parts of the Nautilus. The Alcantara headliner was fantastic, though, and contributed to the upscale feel of this SUV.
---
Performance: 7/10
The Nautilus comes standard with a turbocharged 2.0-liter four-cylinder engine. It puts out 250 horsepower and 280 pound-feet of torque. Optional on the Reserve and standard on the Black Label is a twin-turbocharged 2.7-liter V6. It makes 355 hp and 380 lb-ft of torque. Both engines route power through an eight-speed automatic transmission. The four-cylinder engine routes power through standard front-wheel drive (FWD) or available AWD. The twin-turbo V6 comes standard with AWD, as was the case in our Black Label test vehicle.
The twin-turbo V6 makes terrific power around town and especially at highway speeds. The power delivery might feel delayed at first, but that's all part of Lincoln's approach to luxury. Acceleration feels brisk, but smooth and controlled. This complements the adaptive suspension with nearly eliminates bumps in the road. At the same time, the Nautilus is firm and planted through corners. It's no sports car, but it's composed enough.
Like most modern vehicles, the Nautilus has an engine stop-start feature to conserve fuel. In this application, the engine restarts when you put your foot on the accelerator. Other automakers choose to re-engage the engine as soon as the driver takes their foot off the brake, so by the time they have depressed the accelerator, the engine is ready to respond. This makes for a bit of a delay in responding in the Nautilus. But otherwise, driving this SUV was nothing short of pleasant in nearly all driving scenarios.
---
Form and Function: 8/10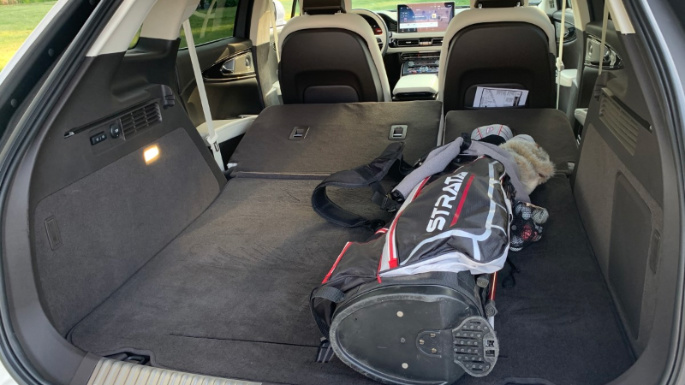 The Nautilus provides up to 68.8 cubic feet of cargo space, which is more than can be found in the Lexus RX 350 and Cadillac XT5. With the rear seats in use, the Nautilus has 37.2 cubic feet of cargo space, which is still respectable and usable. A power liftgate is standard equipment, and it is available with a hands-free power liftgate.
Like the RX 350, the Nautilus is a midsize luxury SUV that puts an emphasis on two-row comfort (three-row shoppers can look to the RX 350 L or Lincoln Aviator). The rear seats have plenty of head- and legroom and are plenty comfortable for adults, even for long trips. But the front seats are the optimal places to sit, especially with the available 22-way multi-contour power-adjustable units. The soft-touch center console and door handles even make resting your arms relaxing for short or long trips.
The Nautilus has a reasonably large center console bin, as well as deep in-door pockets for large water bottles and other items. The floating center controls design also allows for storage below/behind the radio and climate controls.
---
Tech Level: 9/10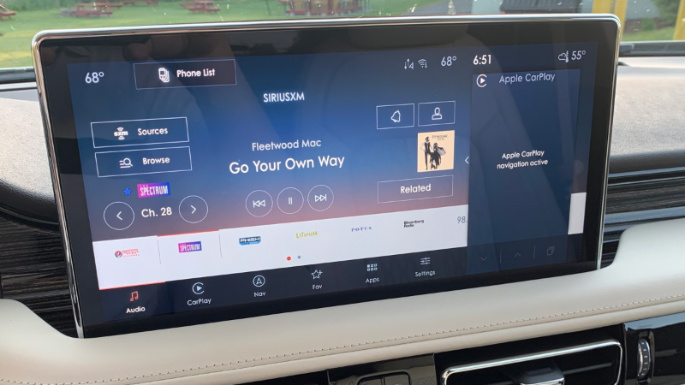 As mentioned, the Nautilus comes with a splendidly large 13.2-inch touchscreen infotainment system. It has high-definition graphics and (more importantly) a sensible menu layout. There is no proprietary controller or dual infotainment screens (looking at you Lexus and Infiniti, respectively). If you get lost in any menu, there's a helpful home button to bring you back to the main screen.
The wireless Apple CarPlay and Android Auto also present well on this large screen. The icons are enormous. There's no move to repackage CarPlay in a portion of the screen to make room for other menus (looking at you, Volvo). This is how tech should be done. There are no barriers to entry or secret handshakes—just a screen that works and is easy to use. Our test model also came with the available wireless charging pad, making the whole relationship between phone and car that much easier. Our test car came with the Revel 19-speaker premium audio system. It provided incredible sound for both music and talk radio listening (it is a Lincoln, after all).
---
Safety: 8/10
The Nautilus comes with a comprehensive list of driver-assistance features as part of the standard CoPilot360 package. This includes standard automatic emergency braking with pedestrian detection, forward-collision warning, lane-departure warning, automatic high beams, blind-spot monitoring, and rear cross-traffic alert.
There are also a number of available additional driver assistance features, including adaptive cruise control, front parking sensors, surround-view parking monitor, and adaptive headlights that bend with the road.
And yet despite all this tech, the standard backup camera is low-quality. It's not the monitor, as the SYNC display has crisp graphics. So it must be the actual camera itself. It actually makes it hard to see things through the backup camera in low-light scenarios.
---
Cost-Effectiveness: 8/10
The Nautilus with the 2.0-liter engine and FWD returns EPA-estimated fuel economy of 21 mpg city, 26 highway, 23 combined, making it the most efficient configuration. This engine with AWD returns fuel economy of 20 mpg city, 25 highway, 22 combined. The 2.7-liter engine with AWD returns 19 mpg city, 25 highway, 21 combined. In our week of combined city and highway driving, we observed an average fuel economy of 22.4 mpg.
Base MSRP for the 2021 Lincoln Nautilus is $41,940 for the Standard trim. AWD adds $2,500 to that price. The Nautilus Reserve trim starts at $49,410. If you want AWD, it brings the price of the Reserve to $51,905. Buyers can also select the twin-turbo V6 that comes standard on the range-topping Black Label for an additional $5,195. The Black Label trim comes in at $65,090 and comes standard with the twin-turbo V6 and AWD. Though pricing was omitted from the build sheet that came with our test vehicle, a quick build-out online brings the price to just short of $67,000
The Nautilus is something of an in-betweener, slotted between true compact and midsize luxury SUVs. It most likely competes with the Cadillac XT5, Infiniti QX60, and to a lesser extent, the Lexus RX 350. The lower-end pricing undercuts most of the segment, though a fully loaded Black Label is one of the more expensive options. But the Standard trim comes with so much equipment that you may not be inclined to check out one of the other trims. If this pricing is too steep and you still want a comfortable Lincoln crossover, check out the compact Corsair.
The Nautilus takes a different approach to luxury than BMW or Audi. There are plenty of high-tech features, but rather than define its design, the tech exists within a larger ecosystem of luxury. The Nautilus brings a classic approach to modern luxury and does so with a long list of standard in-car and safety features that make it a solid value.