Autolist rating: 4/5
But would we buy it? Absolutely
Price range: $32,595 - $45,745, including destination but before options
Key takeaways
All-new model for 2020; almost identical to the new Kia Telluride.
It's a true three-row family SUV with space for everyone in every row.
Only a single V6 engine is offered; all-wheel-drive is optional.
Packs a tremendous value and impressive safety tech.
One of our favorite models in this segment.
---
What is it?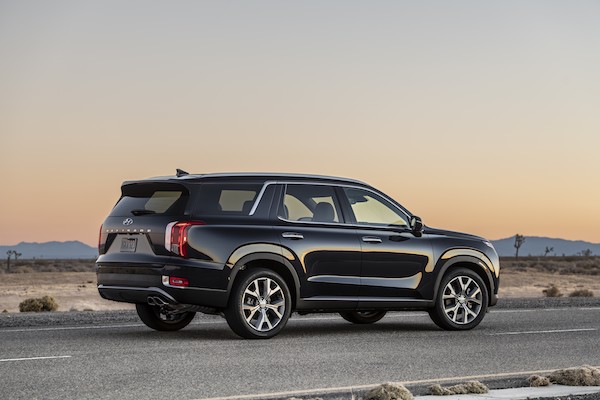 The Palisade is an all-new crossover from Hyundai that now sits at the top of its CUV lineup. This new model was launched for the 2020 year and boasts three rows of seats. It's larger than the rest of Hyundai's crossovers: the Sante Fe XL that it ultimately replaces, Santa Fe, Tucson, Kona and the forthcoming Venue.
The Palisade competes in a popular segment of family-sized crossovers that includes the Ford Explorer, Toyota Highlander, Honda Pilot, Volkswagen Atlas, Nissan Pathfinder, Dodge Durango and Chevrolet Traverse.
This Palisade is also very similar to the new Kia Telluride (same platform, powertrain and seating layout), as Kia and Hyundai have the same corporate parent.
All Palisades comes standard with a 3.8-liter V6 engine that makes 291 horsepower and 262 pound-feet of torque. This engine is paired with an eight-speed automatic transmission.
Front-wheel-drive is standard with all-wheel-drive is a $1,700 option.
This new Hyundai is big, not just overall but also for its segment. Though it's about the same length overall as the Honda Pilot, it has more cargo room inside than the Honda (and the 2020 Toyota Highlander).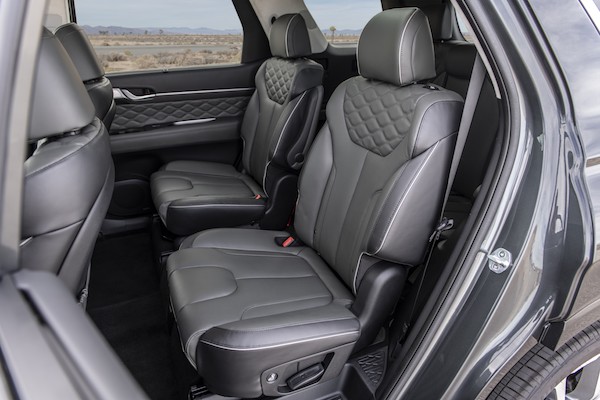 The Palisade is available in three trim levels: SE, SEL and Limited.
The Palisade SE seats eight passengers with bench seats in the second and third row of seats. This bench-seat setup is also a no-charge option on the SEL, though the SEL models come standard with captains chairs in the second row, making it a seven-passenger model. The Limited is only available in this seven-passenger configuration.
---
What's good
TLDR: Great value, plenty of space and an interior that punches above its weight.
Value The Palisade comes with a laundry list of standard features on every trim level that makes this crossover one of the best bargains in its segment. Whether you go basic with the SE trim or opt for the loaded Limited, buyers are treated to an impressive list of luxury goodies, safety tech and practical amenities.
Space This should come as no surprise, given how big the Palisade looks on the road, but there is an impressive amount of space inside. All three rows of seats can accommodate adults of the six-foot-tall variety at the same time and third-row access is made easier by a quickly sliding/folding second seat and well-placed grab handles.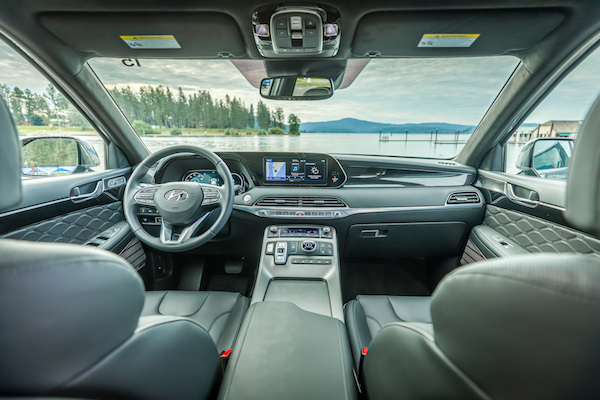 Interior Dress for the job you want, not the job you have, they say. Hyundai's interior takes this to heart. Though Hyundai isn't technically a luxury brand and the Palisade isn't in a luxury segment, you wouldn't know it by looking at the details and execution of its interior. This was particularly true for the Limited trim, with quilted leather seats, brushed metal accents and a pair of large digital screens on the instrument panel and dashboard.
---
What's bad
TLDR: Underpowered, no hybrid, lacks WiFi
Needs more power Lean on the gas pedal when you're on an onramp or looking to pass the slow-moving big rig and the Palisade takes a few brief moments and a few transmission downshifts before it can serve up meaningful power. The experience left us wanting more power delivered more quickly. While the power of it V6 is on par with that in the 2020 Toyota Highlander, Honda Pilot, Nissan Pathfinder, VW Atlas and it's more than what the Mazda CX-9 offers, we're still admiring on the grunt offered by the base engine in Ford's new Explorer.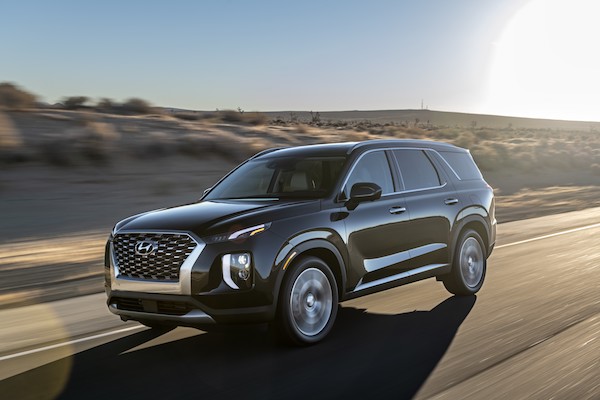 Where's the wifi? Minor gripe here but if you have kids with gadgets that depend on WiFi for long trips, you're going to need to BYOW on the Palisade. Given all the tech that Hyundai packed into its largest vehicle, it's disappointing that WiFi didn't make the list.
Single powertrain Crossover shoppers looking for a little variety (hybrid, diesel, etc) won't find such options on the Palisade. The lack of a hybrid is a particular bummer, since a three-row crossover that sips fuel sounds like a great idea to us. Only the Toyota Highlander and Ford Explorer offer such an option.
---
5 stars of execution
Safety Features? YES
Hyundai packed a long list of standard -- and advanced -- safety features into the new Palisade.
These include pre-collision auto emergency (forward collision) braking with pedestrian detection, lane-keep assist, adaptive cruise control with in-traffic stop-and-go and lane-following assist.

The company also claims it's confident the Palisade will garner a Top Safety Pick Plus designation from IIHS and a five-star crash-test rating from NHTSA, though neither agency has released safety ratings on the Palisade as of this publication.
Value? YES
Perhaps one of the strongest selling points of this Hyundai is what you get for your money. Every price and trim level offers an impressive array of safety, comfort, convenience and practical features for the money.
A loaded version of the mid-grade SEL model has every want and need covered all for $40,000: leather, heated front and middle seats and steering wheel, parking sensors, sunroof, digital instrument panel, auto-leveling rear suspension, 20-inch wheels, eight-inch touchscreen infotainment system, hands-free auto liftgate and power-folding third-row seats.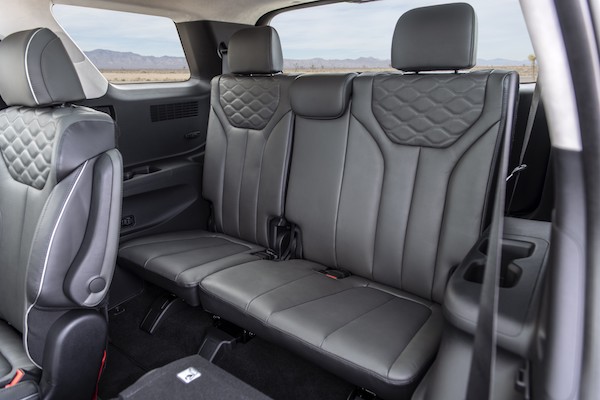 Efficiency? YES
The all-wheel-drive Palisade we tested was rated by the EPA at 19/24/21 MPG city/highway/combined.
That's pretty good for a vehicle of this size; rivals from Chevy, VW, Honda (the Pilot with the six-speed auto) all get worse mileage.
Driving experience? NO
As we mentioned, we were disappointed in the Palisade's acceleration; it felt a bit underpowered compared to its peers.
This was our biggest complaint. The rest of the driving experience was fine; it's quiet, refined and comfortable.
Execution? YES
Hyundai is clearly taking the large SUV segment seriously; this Palisade was an impressive first effort and one that any buyer in this segment would be wise to check out.
Minor powertrain quibbles aside, there are really no flaws in this Palisade's execution. It has space, comfort, safety, style, value and expected durability that anyone will appreciate.
Total Rating: 4 stars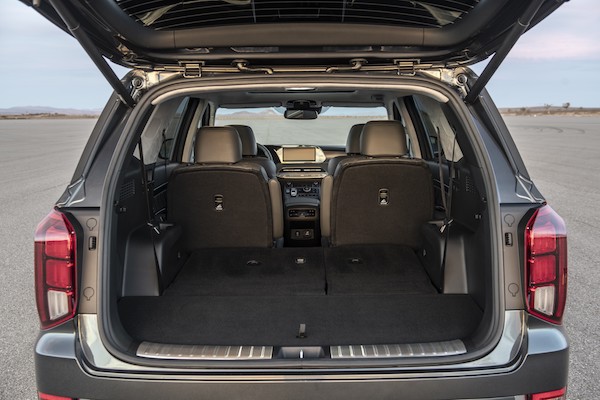 ---
What's it gonna cost me?
The base Palisade SE starts at $32,595, including destination. Standard features include the 291-horsepower V6 and eight-speed automatic transmission, the aforementioned safety features (automatic emergency alerts and braking, adaptive cruise control, lane-centering, etc), an eight-inch touchscreen infotainment system with Bluetooth and Android Auto and Apple CarPlay connectivity, LED daytime lights, power-folding second-row seats, second-row climate control and 18-inch alloy wheels.
The Palisade SEL starts at $34,545 (including destination) and adds heated front seats, power driver's seat, blind-spot collision avoidance, rear parking sensors and cross traffic alerts.
Shoppers can then add the $900 sunroof package, the $2,200 Convenience package (which requires the Sunroof Package and adds things like 20-inch alloy wheels, auto-leveling rear suspension for towing, LED taillights, a hands-free liftgate, front parking sensors and a seven-inch digital instrument panel.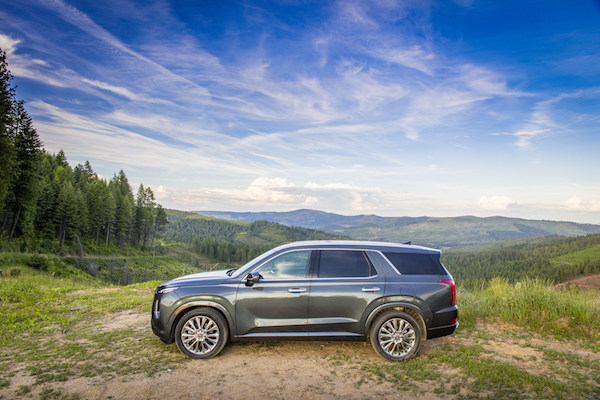 There's also the $2,400 Premium package which requires the Convenience Package and adds things like leather seats, higher-grade materials on the dashboard and door panels, heated rear seats and a heated steering wheel, eight-way power passenger seat, LED headlights and power folding third-row seats.
Finally the Palisade Limited starts at $45,745 (including destination) and adds to the loaded SEL model goodies like a larger 12.3-inch digital instrument panel with blind-view monitor (which uses external cameras on the side of the vehicle to show you your blind spots when you turn on your blinker), Nappa leather seats, a heads-up display, dual sunroofs, ventilated front seats, 630-watt Harman Kardon audio system, 10.25-inch touchscreen infotainment system, 360-degree parking camera and in-car intercom system.
All-wheel-drive is a $1,700 option on all trim levels.
If we were choosing our trim level we'd opt for the SEL with all of the option packages. For around $40,000 you get a loaded full-size SUV that's hard to beat.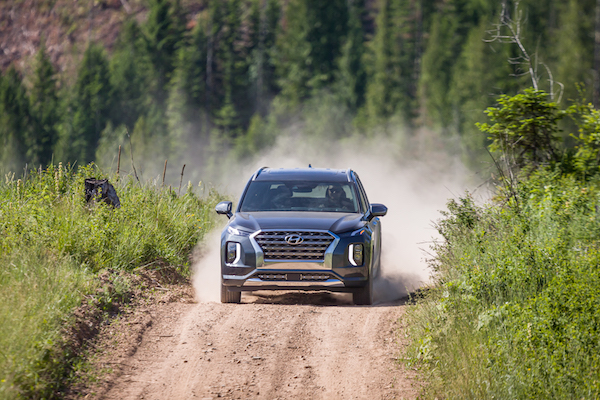 ---
Also consider
The Hyundai Palisade competes in a popular class of family-sized three-row SUVs. Which means it has a lot of competition. While the Hyundai (and its kissing cousin the Kia Telluride) should be at the top of your shopping list, here's a look at others worth a look.
Ford's Explorer is all-new for 2020 and it offers four different powertrains (a great base turbo four, two strengths of a turbo V6 and a hybrid) and plenty of space throughout. We liked it but we'd still prefer the Hyundai, largely because it feels more refined and offers a better value.
Mazda's CX-9 is the best-handling crossover in the segment, if that's a priority for you. But it lacks power and space, which are important.
We also like the Honda Pilot, Volkswagen Atlas and Subaru Ascent.
Toyota has an all-new Highlander out for 2020 but we haven't tested it yet.
We would pass on the Dodge Durango, Chevy Traverse and Nissan Pathfinder.
More Photos
See additional 2020 Hyundai Palisade photos for more views of the interior and exterior.