It's a great car at an excellent price. You could pay twice the price for a slightly better car, but the Honda Civic gets you 90% of the way there for 50% of the price. It's a sturdy, reliable, and good-quality car. Honda is a brand known for producing durable workhorse vehicles, and the Civic is no exception. It's functional, light on the wallet, and gets you where you need to go. It's a budget car, but it doesn't feel cheaply made at all--in fact, it looks pretty sexy. All in all, it's definitely worth the purchase, and it's a steal at the price it sells for.
Story
I took this car to a racetrack and gave it a spin. It's a sports car, after all, so I figured I should race it once in a while.
Pros
Most things about the car are excellent. It's got great fuel economy, takes cheap fuel, doesn't break down easily, and has a reliable engine. Its ongoing maintenance costs are fairly low, and it's light on the wallet, both in terms of purchase price and in terms of ongoing costs. It has good handling, offers a comfortable driver and rider experience, and is a practical option for most kinds of drivers. It's also pretty customizable, allowing you to add extra features and other bells and whistles if you so choose.
Cons
This isn't a major con, but I wish the trunk were slightly larger. I imagine paying a few thousand extra for the hatchback version would mostly solve this problem, but that bumps it up to nearly $30k, and at that point, I'd be a bit tempted to go for some other, more premium car. Nonetheless, this isn't too big of a deal, since it's not every day that I go hauling a stack of bricks or a wide-screen TV.
This Honda has a wide range of potent engine options. The base engine in the Civic sedan LX and Sport trims is a 158-horsepower 2.0-liter four-cylinder. It has plenty of power, but there are a few more-potent options available.
Story
Once I've accidently keyed another car same like mine that was the fun / memorable thing happened around my vehicle.
Pros
A spacious cabin. Chic, high-quality materials. A strong turbocharged engine. An abundance of standard features. Superb fuel economy.
Cons
Airbag light due to failed occupant position sensor. Bad engine mounts may cause vibration, roughness, and rattle. Power window switch may fail. Hood release cable may break at handle. Possible shift control solenoid fault. Wipers won't park due to windshield wiper motor failure.
Honda Civic News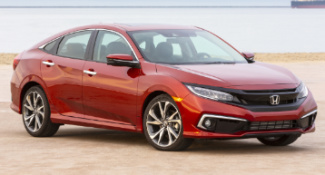 Other Honda Civic Years
Other Honda Vehicles