The Ford Expedition propelled the company's popularity among SUVs. It took on General Motors directly with more room, more power, and more technology to feed Americans' appetite for the ever-larger vehicles. While it stagnated while the US shifted to smaller vehicles amid rising prices, more luxury, safety features, technology, and power brought it back to life as times improved over the Ford Expedition's generations.
2018 – Present Ford Expedition (4th Generation)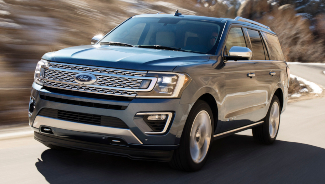 The fourth-generation Ford Expedition was considerably changed for 2018 to better compete with the less advanced Chevy Tahoe, Chevrolet Suburban, GMC Yukon line, and aging Toyota Sequoia and Nissan Armada.
With seating for up to eight people, the new Expedition and related Lincoln Navigator are based on the 2015 Ford F-150, which gained a lighter aluminum-alloy structure. It also had a wheelbase 3 inches longer and a 4-inch overall length gain. As a result, not only was it more spacious inside, but it lost up to 300 pounds of curb weight in the process, making it more agile and economical.
The elongated Expedition Max, about a foot longer than the standard model, also continued for customers who wanted more passenger and cargo room. Initial trim levels were XLT, Limited, and a luxurious Platinum model that cost almost as much as the Lincoln.
The Platinum trim featured climate-controlled and massaging leather seats, a forward sensing system, and polished alloy wheels. It also boosts the engine's horsepower and torque slightly.
All models of the large SUV used the 3.5-liter turbocharged Ecoboost V6 engine of the previous generation. The engine was updated to make 375 horsepower (400 on the Platinum) and 470 lb-ft of torque (480 on the Platinum). In addition, a 10-speed automatic transmission was standard, and the Expedition was now capable of towing up to 9,300 pounds.
An FX4 Off-Road package was added for four-wheel-drive XLT models, with an electronically locking limited-slip differential, upgraded shocks and suspension pieces, various available skid plates, and some trim differences.
There were few changes for 2019, but the high-luxury King Ranch version returned for 2020. The top model added upgraded leather upholstery on all seats, the steering wheel, and pretty much on every interior surface. In addition, there were many King Ranch logos inside and out with distinctive wheels.
A stripped-down Expedition XL STX joined the line for 2021. The most basic version was only available in the standard-length model and lost the third-row seats. It also lacked a chrome grille and used 18-inch wheels.
The entire Expedition line was revised for 2022. There were subtle styling changes, but the Sync 4 infotainment system was added, along with a massive optional portrait-style touchscreen from models like the Explorer and Mustang Mach-E. In addition, all models got more advanced driver assistance systems along with Ford's BlueCruise system with a more sophisticated suite of tech for lane-centering on the highway.
Ford added new models. The Timberline off-road model came with a 440-horsepower version of the 3.5.-liter turbocharged engine, increased ground clearance, and a system to improve maneuverability for tight turns on trails. The Stealth Edition Performance package, on Expedition Limited models, added blacked-out exterior trim and 22-inch wheels.
2007 – 2017 Ford Expedition (3rd Generation)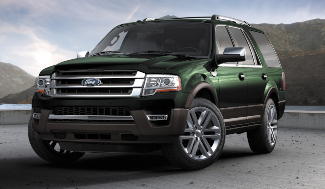 While the third-generation Ford Expedition looked a little boxier and tougher with its bold bar grille than the previous version, the significant changes revolved around technical changes and a new, longer version to compete with the Chevy Suburban and GMC Yukon XL.
Ford switched to a more robust platform which enabled it to develop extended-length versions of the standard Expeditions. As a result, the new Expedition EL was 14.8 inches longer than the typical Expedition, had more cargo space, and was easily distinguishable by its stretched cargo-area windows. Like its predecessor, this Expedition used an independent rear suspension, which allows for more cargo space in the rear.
The regular trims — Expedition XL, XLT, XLT Premium, XLT Sport, Limited, and King Ranch — gained redesigned grilles and headlamps. In addition, a new six-speed automatic transmission became standard on all versions. With a boosted output of 300 horsepower and 365 foot-pounds of torque, the Expeditions could tow up to 9,200 pounds with the previous version's 5.4-liter V8.
But just as the new Expedition arrived, giant SUVs fell out of vogue amid the 2008 Global Recession and soaring gas prices. As a result, sales plummeted from 2008. For several years, Ford stuck to minor changes such as dropping the XL Sport and XLT Sport and Premium models while adding a high-end Platinum model and features such as their first-generation Sync voice activation system.
Finally, in 2015, Ford replaced the V8 with its 3.5-liter twin-turbocharged "Ecoboost" V6 engine with 365 horsepower and 420 lb-ft of torque and direct injection. As a result, the 2015 Ford Expedition was quicker but more efficient with up to 21 mpg, according to the EPA. There were also some styling and technology updates, such as an improved infotainment system and a blind-spot monitoring system.
These changes would last just through 2017 before a more comprehensive redesign came in.
2003 – 2006 Ford Expedition (2nd Generation)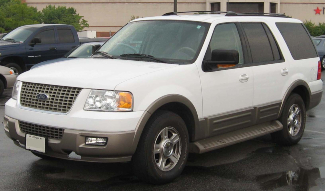 The second-generation Expedition became vastly different and more refined than its first round. The boxy shape was rounded and slightly less truck-like, while the fit and finish were improved. Ford also made interior design different from the F-150s, and high-end versions, and more luxury options than before.
Buyers could choose from the two-wheel-drive XLT Value trim with 4.6-liter V8 up to the four-wheel-drive Eddie Bauer 5.4-liter V8 trim level. The output of the 4.6-liter engine increased to 232 horsepower and 291 lb-ft of torque, while the new 5.4-liter engine delivered 260 horsepower and 350 lb-ft of torque. A four-speed automatic transmission came on all models.
This generation was also noteworthy for being the first Expedition to use an independent rear suspension. Unusual in a full-size SUV at the time, it improved the ride while allowing for more space inside and better access. The third-row seat no longer had to be lifted out of the vehicle, but rather it folded flush with the floor as in a car. Side airbags were also newly available.
Subsequent modifications on the 5.4-liter pushed its output to 300 horsepower. For 2005, Ford dropped the 4.6-liter V8 engine and made the 5.4-liter engine standard on all Expeditions, but added a high-end King Ranch version.
The 2006 Ford Expedition was largely unchanged as a new model arrived for 2007.
1997 – 2002 Ford Expedition (1st Generation)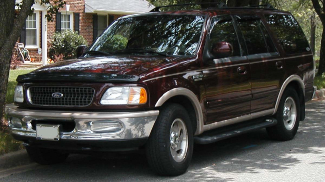 Ford first announced the Expedition for the 1997 model year. The full-size, four-door SUV was to replace the compact two-door Ford Bronco as the company that dominated the midsize SUV class with the Ford Explorer couldn't compete with GM's Chevy Tahoe and GMC Yukon directly.
First-generation Expeditions were heavily based on Ford's F-150 pickup. As a result, both models shared front-end styling and mechanical components, including engines, transmissions, and front suspensions. Partly because of this platform, the Expedition was larger than the Tahoe and Yukon. In addition, the Expedition's longer wheelbase allowed three rows of seating —the third-row rear seat being optional — to accommodate eight or nine passengers.
The Expedition was available in two trims: the base XLT and the more upscale Eddie Bauer version. Standard features in the Eddie Bauer trim included leather seats, dual-zone climate control, cruise control, running boards, and a power moonroof. Buyers could choose between rear-wheel-drive and four-wheel drive in either model. Both trims featured four-speed automatic transmissions. Under their hoods, the Expeditions came with V8 engines that gave them plenty of towing capacity. The standard 4.6-liter V8 engine delivered 215 horsepower and 290 lb-ft of torque. The optional 5.4-liter V8 engine produced 230 horsepower and 325 lb-ft of torque.
Updated 1999 models featured the same engine choices. However, Ford raised the horsepower for each engine to 230 horsepower and 260 horsepower, respectively.
While there were some changes to the styling, paint choices, and special edition versions like the No Boundaries and Premier, there were few changes before the popular Expedition was radically redesigned for 2003.