Quick Facts:
Pros:
Unexpectedly spacious for a coupe.
Lots of engine options, with huge performance potential.
Easy-to-use controls.
Available all-wheel-drive.
Cons:
Lacks sophisticated driver assistance technology.
Not as athletic as its rivals.
The ride isn't always compliant.
Interior quality doesn't always match the price.
Vehicle Type: Two-door, five-passenger coupe.
Price Range: $29,490-$79,790
Powertrain: The standard offering is a 305-horsepower, 3.6-liter V6 with rear-wheel-drive and 8-speed automatic transmission.
All-wheel drive is optional.
Options include:
A 375-horsepower, 5.7-liter V8 and rear-wheel-drive and 6-speed manual or eight-speed automatic.
A 485-horsepower, 6.4-liter V8.
A 717-horsepower (or 797-horsepower) supercharged 6.2-liter V8 in Demon and Hellcat models.
More Photos
See more 2020 Dodge Challenger photos here.
---
Overview: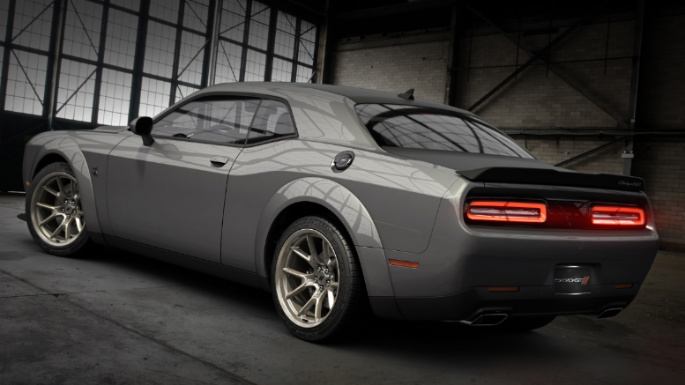 The 2020 Dodge Challenger is a two-door sporty coupe that primarily competes with the Chevrolet Camaro and Ford Mustang as an American muscle car. Introduced in 2008 and last significantly updated for 2015, the Challenger continues new paint colors and other cosmetic changes for 2020.
The Challenger offers a V6 engine and three V8 engines, ranging from relatively sedate horsepower to jaw-dropping levels of power. Its price can also range dramatically. But the Challenger's emphasis is on throwback style and performance.
There is a wide selection of trims and appearance packages that allow customers to highly tailor the vehicle to taste, unlike many vehicles. And it offers up to 797 horsepower in most powerful supercharged form, providing a high level of performance for the money.
For 2020, most Challenger models can be equipped with a limited edition 50th Anniversary Package, which includes a satin black hood, leather and Alcantara upholstery, a special gauge cluster, and several 50th Anniversary badges. All other models can be equipped with a variety of new wheel designs and finishes.
Unusual for a coupe, the Challenger V6 models can be had with all-wheel-drive, which gives those living in harsh conditions an extra layer of practicality and year-round driveability in snowy climates.
And unlike other coupes of this price, the Challenger has provisions for five passengers and a reasonably large trunk, making it one of the most practical vehicles in this class.
While its practicality is a bonus, most will find the Challenger is most evocative of a '60s-era muscle car that prioritizes noise and power and a large dose of character.
Overall Score: 6.5/10
---
Safety Features: 5/10
The 2020 Challenger received four stars out of five in the National Highway Traffic Safety Administration's (NHTSA) frontal crash test and rollover test. It also received a Marginal rating in the Insurance Institute for Highway Safety's small overlap front crash test.
That is worse than the Chevrolet Camaro and Ford Mustang performed, among the few coupes the agency has tested so far. However, most new vehicles have scored higher in this category than the Challenger.
Available driver assistance features include full-speed automatic emergency braking, automatic high beams, and blind-spot monitoring. These technologies are considered relatively basic among new cars now, especially at the Challenger's price.
It also lacks most active driver assistance items that prevent a collision in the first place, which is why it scored poorly in this category by the IIHS, too.
---
Value: 7/10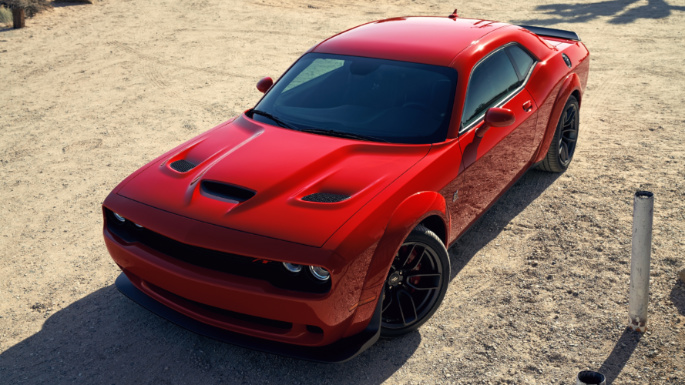 All models are relatively well equipped for the price, with most V8 versions offering a generous amount of performance for the money. Consider that a Challenger R/T can be had with an automatic transmission and 375 horsepower for comfortably less than $40,000, and it makes the Camaro and Mustang look expensive. And even the V6 AWD models have something few coupes offer.
Some option packages with common options, however, are expensive. While equipment levels are good, desirable options can quickly inflate the price. And the visual upgrades vary widely in price.
The top-end Hellcat models, however, may not offer the quality of interior that an $80,000 vehicle would, so it's worth considering how important the straight-line speed really is. For that price, some premium German coupes can offer similar levels of practicality, as well as better technology and more luxurious materials.
---
Tech Features: 7/10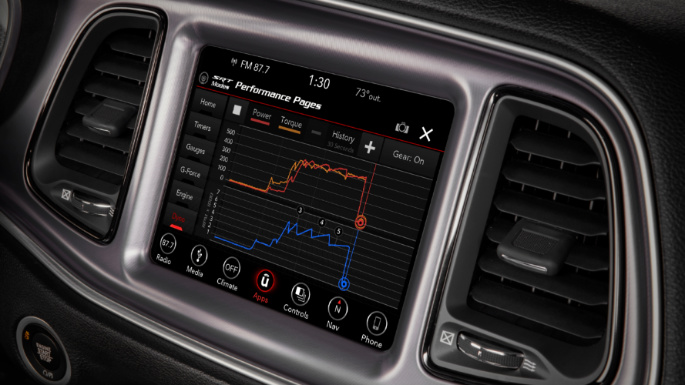 The Challenger's UConnect infotainment system and climate controls are relatively easy to use. Touchscreen icons are large, and the physical buttons for common functions such as volume and temperature make it easy to make settings changes while driving.
A seven-inch touchscreen is standard, but many get an 8.4-inch version, and built-in navigation is available. Apple CarPlay and Android Auto connectivity is included. A nine-speaker audio system with 506 watts is optional, while V8 models have the option of an 18-speaker system.
Options include blind-spot monitoring, rain-sensing wipers, automatic high beams, and high-intensity discharge headlamps. Even among muscle cars, these are relatively prevalent. The Mustang even offers a configurable digital instrument panel and adaptive cruise control with forward-collision warning, both increasingly common on new cars costing as much as a V8-powered Challenger.
---
Practicality: 8/10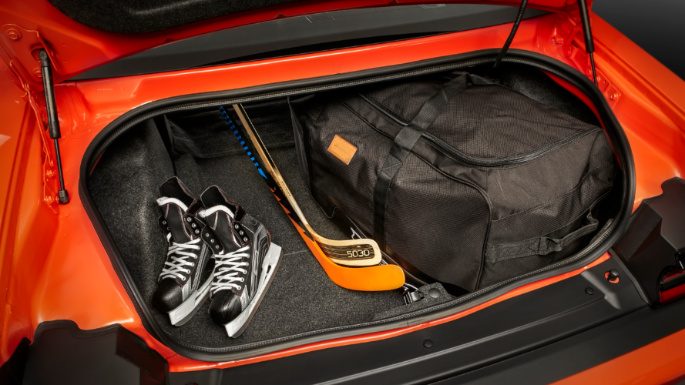 The Challenger shines when it comes to coupe practicality. Aside from high-end Bentley or Mercedes-Benz models, there are few two-door vehicles on the market today that offer a sense of practicality and power like the Dodge. Almost in the style of old American cars, its large exterior provides a spacious interior for a family – sort of.
There is space for five passengers, and while two in the back seat are more likely to fit, they will at least be far more comfortable than in the back of a Camaro or Mustang, or even some compact sedans. There's reasonable headroom, too, and a chance putting car seats back there won't be too painful of a process.
The trunk measures 16.2 cubic feet, which puts some midsize sedans to shame. Better still, the rear seats fold down to accommodate long items – such as skis if you opt for the all-wheel-drive models. While other coupes offer folding seats, the Challenger's space is hard to beat. It makes fewer concessions to style than most coupes.
---
Styling & Design: 7/10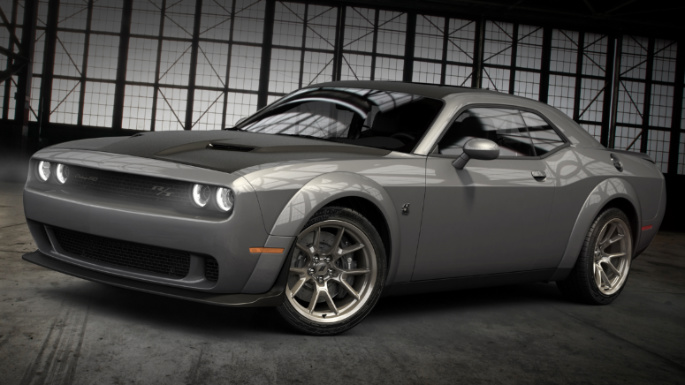 Like most coupes, the Challenger puts style before anything, and it does to great effect. All models, even the base V6 ones, get alloy wheels and aggressive looks. Then the V8-powered R/T, R/T Scat Pack, SRT Hellcat, and SRT Hellcat Redeye supercharged models offer so-called "Widebody" models for an even more aggressive stance. There are a number of add-ons on each trim level, from different wheels and paint choices to graphics and blacked-out hoods. The new 50th Anniversary packages enhance that even more.
As usable as the Challenger's controls are, the interior quality is subpar for its segment. Hard, cheap plastics abound, and the metal-look finishes aren't convincing. Even for $40,000, the interior feels low-rent, and the top-level $80,000-plus models seem like a poor value if interior refinement and execution is a high priority. The dark interior and small windows make it claustrophobic, too. The Mustang, at least, offers somewhat better materials, but the Challenger can't compete with coupes from Audi or Mercedes-Benz that cost similar money.
The Challenger's style is part of its appeal, and it's a love-it or leave-it kind of thing. As an everyday vehicle, its styling and poor outward visibility can make maneuvering and parking more difficult than a similarly-sized vehicle, or even other coupes. And it isn't always the nicest vehicle to sit in, even with upgrades like full-leather upholstery. But then neither the Camaro nor Mustang is the easiest to live with among cars of their respective prices.
---
Driving Experience: 6/10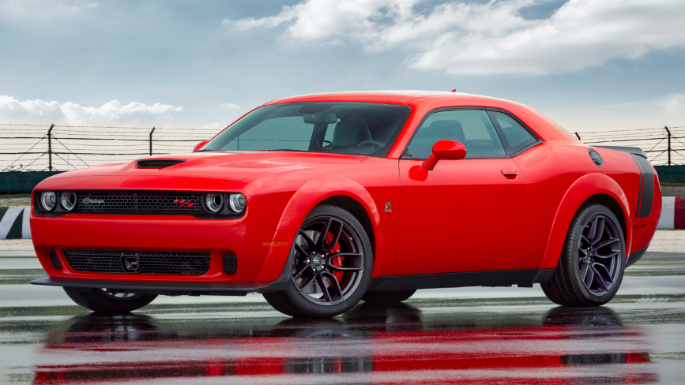 No Challenger wants for power, not even V6 models, and it's hard not to ignore the three V8 choices. Even skipping the outrageously powerful Hellcat models gets you the R/T or R/T Scat Pack models, which have plenty of power and can be equipped with a six-speed manual. That said, the Challenger is about straight-line performance. Its sheer size doesn't do it any favors, but it's more set up for the highway than aggressive race tracks. The Camaro and Mustang, with their smaller shapes and tightly sprung suspensions are more suited for the track and will leave the Dodge in the dust – in the corners.
Some versions of the Challenger are comfortable on the street, but models with larger wheels, thinner tires, and more aggressive suspension setups, like the Hellcat, lose composure over road imperfections. Some models are equipped with adaptive suspension systems, but they're mostly set up for the track and don't allow the ride to settle down enough. Ultimately, the Challenger isn't the most refined car to drive, nor the most dynamic in the handling department. If anything, it's a throwback to an old American muscle car that favored straight lines.
---
Fuel Efficiency: 6/10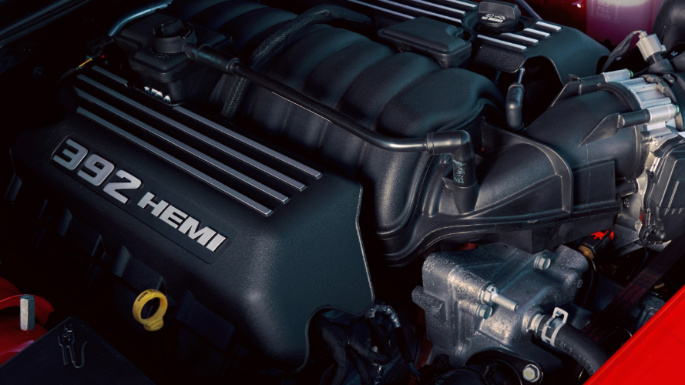 The 2020 Dodge Challenger V6 rear-drive models are rated by the EPA at 19 mpg city, 30 highway, with a combined rating of 23 mpg. All-wheel-drive models fall to 18 city and 27 highway. That's relatively on par with base model sporty coupes of this type, even those with turbocharged four-cylinder engines rather than the Dodge's V6.
The Challenger R/T models are rated at 16 city and 25 mpg highway with the automatic transmission, and 15 mpg city and 24 highway with the manual transmission. R/T Scat Pack versions fall one mpg across the board. And the Hellcat models are rated at 13 mpg city and 22 highway, or 21 mpg with the manual transmission.
Similar Chevrolet Camaro and Ford Mustang competitors have relatively competitive fuel economy numbers.
---
What's it Going to Cost Me?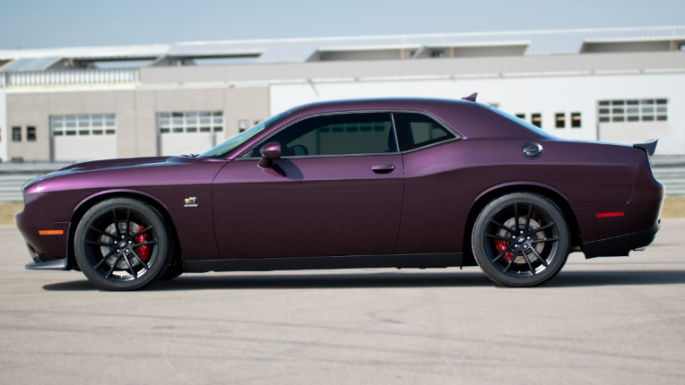 The Dodge Challenger SXT starts at an MSRP of $29,490, including a $1,495 destination charge. It comes standard with a 305-horsepower, 3.6-liter V6 and 8-speed automatic, as well as features such as 18-inch alloy wheels, keyless entry and push-button start, 8-way power driver's seat, dual-zone climate control, 6-speaker audio system, and a 7-inch touchscreen with satellite radio, Apple CarPlay and Android Auto capability. All-wheel-drive is available.
The GT starts at $32,590 and adds upgraded wheels and exterior trim inspired by the V8 models, as well as different alloy wheels, and leather and Alcantara sport front seats. It also includes rear parking sensors and remote start. All-wheel-drive is an option.
The R/T starts from $36,490. Equipped like the GT, it adds a 375-horsepower, 5.7-liter Hemi V8 engine and a six-speed manual. An automatic transmission is available.
The R/T Scat Pack starts from $41,490. Offering more performance than the standard R/T, it replaces the 5.7-liter V8 powertrain with a 485-horsepower 6.4-liter Hemi engine with either a six-speed manual or eight-speed automatic transmission. It also includes performance features such as launch control, as well as modified gauges and track information. The 8.4-inch touchscreen is also included, as are heated front seats and a heated steering wheel. It's also available as a Widebody model, which consists of flared wheel arches and an exterior trim kit.
The Challenger SRT Hellcat starts from $62,190. It replaces the naturally aspirated V8 with a 717-horsepower supercharged 6.2-liter V8 and adds a revised hood and exterior styling kit, as well as a track-oriented adaptive suspension. It's also available as a Widebody variant. The Hellcat Redeye takes the horsepower up to 797.
As tempting as the Hellcat models are based on a horsepower-to-dollar ratio, the Challenger R/T and R/T Scat Pack represent the best of the Challenger range considering the cost of the packages that contain some desirable options such as leather or even performance items – or cosmetic touches. The R/T, in particular, provides V8 performance for less than $40,000, while the Scat Pack raises that bar to the level of AMG and M models from Germany. Just don't expect the agility of a true sports car.
---
More Photos
See more 2020 Dodge Challenger photos here.