Summary
The Chevrolet Colorado is an American midsize pickup truck. It was introduced in 2004 replacing the popular S-10 compact pickup truck. The Colorado competes with the Ford Ranger, GMC Canyon, Honda Ridgeline, Nissan Frontier and the Toyota Tacoma. It appeals to new truck buyers who want a pick-up with a car-like interior feel, rear-wheel drive and four-wheel drive capable of towing a lot of weight. The 2019 model is part of the second generation Colorado first released for the 2015 model year. New in 2019 is Chevy's infotainment system includes a 7-inch color touchscreen and a rear view camera. The Colorado is available in five different trim levels, base, WT (work truck), LT, Z71 and the ColoradoZR2. The base model price begins at $22,395 while the ZR2 trim model starts at $44,390 including destination fee before adding packages and additional options.
Exterior
The Colorado has a sporty look for a pickup truck. Despite its smaller size you can see the family resemblance to the bigger full-size Silverado, Tahoe and Suburban. The headlamps are a large single unit which contributes to the very clean looking front end. The exterior body styles range from very simple and basic to aggressive and bold. The base Colorado model is equipped with automatic on/off headlights, standard silver 16-inch steel wheels, a locking tailgate which uses the same key as the ignition and the option of a short 61-inch bed or an extended 74-inch bed, cab options are extended cab or crew cab. The higher up you go on the trim levels the more exterior features are available. On the LT trim level the Colorado is upgraded with 17-inch aluminum wheels and body-colored rear bumper, mirror caps and door handles. On the Z71 trim the 17-inch wheels are upgraded with a unique paint job, paired with all-terrain tires. The front bumper is now equipped with projector beam headlamps and factory mounted fog lights. Finally on the off-road friendly ZR2 trim level is equipped with an off-road appearance package, the tires are upgraded to aggressive tread patterns specific for off-roading, the hood is upgraded along with the front bumper resized to allow for increased clearance, skid plates and a transfer case shield are standard on this trim as well as the spray-on bed-liner with the ZR2 logo.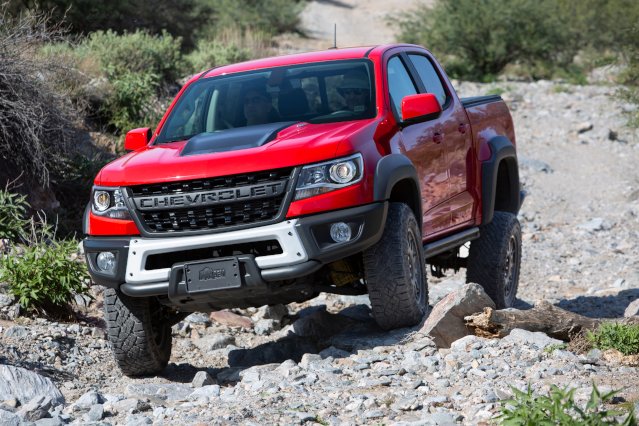 Interior Quality and Comfort
The interior is largely hard plastics, and lower quality surfaces, however assembly is solid and put together well. The front buckets seats are comfortable and allow plenty of headroom although much larger individuals will find the seats a bit too narrow. The standard driver's seat has four-way power and a manual recline handle and are wrapped in high quality durable material, higher trim levels have the option of heated and leather seats. The Colorado sits up pretty high so entering may be difficult for shorter individuals especially as side steps are optional and not standard. On models equipped with a crew cab the rear door is smaller and narrow which makes for difficulty getting in and out, the rear seat leg space is limited and there is inadequate headroom for larger passengers. The base model also includes power windows, air conditioning and two USB ports standard.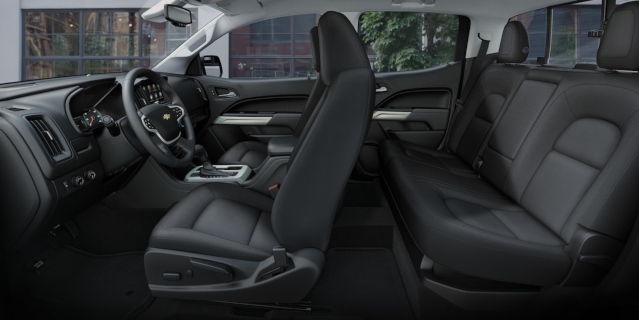 Utility and Practicality
The Colorado is the leader of its class in towing, horsepower, and highway mpg depending on which of the 3 available motors you choose. The standard pickup bed is 6-feet long, larger than it competitors. If you choose a crew cab model then the pick up bed shrinks to just over 5 feet long. As far as interior cargo space the Colorado is not the best yet isn't the worst.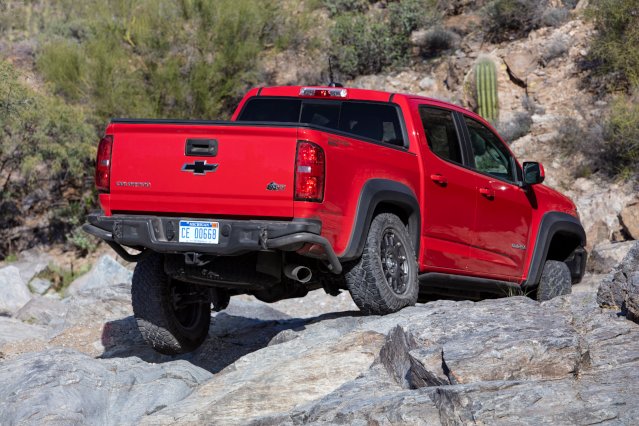 Of the three available motors is the 4-cylinder 2.8 liter turbo diesel engine that is capable of towing 7,700 pounds and get the best in class 30 mpg highway. The 3.6 liter V6 engine holds the title for most horsepower for its class pumping out 308 horses. Last but not least the 2.5 liter 4-cylinder has a towing capacity of 3,500 pounds.
Technology and Infotainment
The base model Chevy Colorado is equipped with a 7-inch color touchscreen paired with bluetooth streaming for compatible devices, Apple CarPlay, Android Auto, a 6-speaker sound system and a rear-view camera.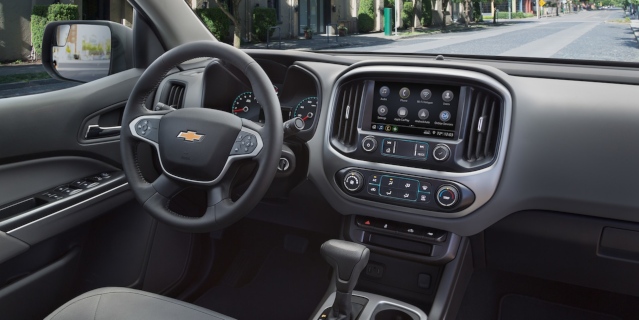 The Colorado LT trim model and ascending trims receive an 8-inch color touchscreen which features voice recognition an HD rear-view camera, 4G LTE Wi-Fi capable requiring a data subscription and Sirius XM radio which also requires a subscription after its trial period.
Safety and Driving Assistance
According to the National Highway Traffic Safety Administration (NHTSA) website the Colorado received 4 out of 5 stars overall. In front crash fro both the driver and passenger side the Colorado scored 4 out of 5 stars. In side crash testing the Colorado scored a perfect 5 out of five stars. In the roll over rating category the Colorado received a 3 out of 5 score.
The Insurance Institute for Highway Safety (IIHS) gave the Colorado different ratings based on the options of RWD or 4WD and extended cab or crew cab. The Colorado received a Good rating on all categories except for the frontal passenger side crash. The headlights are rated as poor, and the LATCH system ease of use is rated as marginal.
The Colorado can also be equipped with Available safety features such as forward collision alert, lane departure warning and rear park assist.
Driving Experience
The Chevy Colorado offers 3 different powertrains, beginning with the 2.5 L in-line four-cylinder engine that cranks out 200 horsepower, 191 lb-ft of torque, capable of towing 3,500 pounds and can be paired with either a six-speed manual transmission or a six-speed automatic transmission. Next is the 3.6 liter V6 engine which pumps out 308 horsepower, 275 lb-ft of torque, capable of towing 7,000 pounds which is more than any other V6 in the competition and it is the most powerful V6 in its class. All V6 models are paired with an eight-speed automatic transmission. Last but not least is the 2.8 liter in-line four-cylinder turbo diesel engine that produces 181 horsepower, best in class 369 lb-ft of torque, capable of towing 7,700 pounds and best in-class 30 mpg highway also paired with a six-speed automatic transmission.
The acceleration on the four-cylinder motor is sufficient for city driving but reveals it lack of passing power when in need of passing on the highway.
The V6 is strong and powerful making the truck feel light and nimble. The feeling of nearly instant power when you want it is attributed to the smooth throttle. Shifting on the eight-speed automatic transmission is clean as it matches power proportionately, although at times on level surfaces it may lag in downshifting.
The turbo diesel motor has more pulling power than any midsize pickup truck. Of the three motors the V6 and the turbo diesel are the most popular but the V6 takes the cake because it offer the best balance of power, towing capability and fuel efficiency.
A firm front end suspension permits the Colorado to minimize body roll and offers impressive handing for a pickup. Despite the many car-like handling attributes the Colorado's light rear-end reminds the driver they are still driving a truck.
Steering feedback is nearly non existent but comfortable and reminiscent of a car rather than a truck, the Colorado also maintains a comfortable on-center feel when driving at highway speeds.
The Colorado's ride is well dampen by the large tires and feels more comfortable than the majority of its competition and it does well absorbing large bumps in the road. As far as noise and vibration is concerned there is a presence of road wind and engine noise however it should not expected to be as quiet as the Tahoe's cabin.
Braking in the Colorado is easy and controlled, despite the softening of the pedal under harder braking. For a truck that can tow 7,000 pounds the braking power is adequate.
Off-road capabilities are somewhat stunted on every trim level from the Colorado Z71 and down because of the large lower bumper trim. If removed it will permit much more clearance but is no substitute for the minimalistic front end on the ZR2 which enables maximum clearance and ability with the upgraded off-road suspension, dampening system, driver initiated front and rear-locking differentials.
Visibility in the Colorado is good however large roof pillars create large blindspots, the side mirrors are nicely sized which assists when lane changing.
Fuel Efficiency
Fuel Economy on the Colorado is impressive on any of the powertrain configurations when compared to its competition. There are nine different powertrain configurations, the most fuel efficient is the 2WD 2.8 liter in-line four-cylinder turbo diesel engine which according the Environmental Protection Agency fuel economy website this motor achieves 20 mpg city, 30 mpg highway for a combined total of 23 mpg. The least fuel efficient is the top of the lineup Colorado ZR2 4WD with the 3.6 liter V6 engine achieves 16 mpg city, 18 mpg highway for a combined total of 17 mpg. Compare to the competition.
Honda Ridgeline FWD; 19 mpg city, 26 mpg highway for a combined total of 22 mpg.
Nissan Frontier 2WD four-cylinder; 19 mpg city, 23 highway for a combined total of 21 mpg.
Toyota Tacoma 2WD four-cylinder; 20 mpg city, 23 mpg highway for a combined total of 21 mpg.
Each competitor configuration listed above is the most fuel efficient for each model.
Pricing and Value
The MSRP for the base model Colorado equipped with the 2.5 liter four-cylinder engine, RWD, six-speed automatic transmission, extended cab and long pickup bed is $22,395 including the $1,095 destination fee before additional packages and options added.
The Colorado WT (Work truck) with standard 2.5 liter four-cylinder engine and the same six-speed automatic transmission adds carpeted interior flooring, dual rear seats with under seat storage will cost $25,895 including destination before additional packages and options.
The Colorado LT trim model retains the 2.5 liter four-cylinder engine, automatic transmission, RWD powertrain. Upgrades for this trim level includes the body-color rear bumper, mirror caps, door handles, 17-inch aluminum wheels, the 8-inch color touchscreen infotainment system, remote keyless entry, a leather-wrapped steering wheel, the HD rear vision camera and a 6-way power-adjustable driver seat will raise the price to $27,600 including destination before additional packages and options.
The Colorado Z71 trim model also retains the 2.5 liter four-cylinder with automatic transmission with RWD. Upgrades for this trim level include a Z71 off-road suspension, automatic locking rear differential, transfer case shield on 4x4 models, unique 17-inch painted wheels, all-terrain tires, automatic climate control, power-adjustable passenger seat, driver and front passenger power lumbar control, EZ lift & lower tailgate, heated steering wheel and wireless charging for compatible devices raise the cost to $31,795 including destination before additional packages and options.
The Colorado ZR2 trim level upgrades the powertrain to include a 3.6 liter V6 engine, an eight-speed automatic transmission, 4WD. This trim level also includes the ZR2 off-road appearance package, ZR2 off-road suspension, a damping system, increased clearance and track width, a transfer case shield, trailer hitch and integrated brake controller, spray-on bedlinen with ZR2 logo, a unique hood, fascia and grille, black rear bumper, front and rear wheel flares, P255/65R17 all-terrain blackball tires and leather front seats all raise the cost to $42,790 including destination before additional packages and options.
Listed below you will find the base model competitors as well as the higher end trim levels comparable to the ZR2 with destination fee included.
Ford Ranger XL RWD auto transmission, $25,495
Ford Ranger Lariat 4WD auto transmission $37,405
Honda Ridgeline FWD V6, $31,035
Honda Ridgeline AWD V6, $39,945
Toyota Tacoma RWD 4cyl, auto, $26,795
Toyota Tacoma 4WD V6 auto, $46,610
The Chevrolet Colorado is a good value because you have the option of building upon a bare bones entry level trim with very competitive powertrains, desirable features standard such as an extended cab, long pickup bed, power windows, USB ports and an infotainment center with streaming bluetooth and rear view camera all standard. All the other models before the top of the line ZR2 have class leading features such as towing capability, horsepower or fuel economy.
More Photos
See more 2019 Chevy Colorado Photos.