Autolist rating: 5/5* pending fuel efficiency ratings
But would we buy it? Yes
Price range: $41,245 - $54,995, including destination
Key takeaways
All-new seventh-generation 3 Series bows for 2019.
Larger and more powerful than its predecessor, yet lighter and no more expensive.
Comes with two engines initially: a turbo four (330i) or a turbo six (M340i) and in RWD or AWD.
Remains at the top of the sport sedan segment for overall dynamics and execution.
---
What is it:
All new for 2019 and in its seventh generation, the 3 Series is perhaps BMW's best-known model and the one that is closest linked to its brand identity. It's often called the benchmark of the sport sedan segment; BMW's 4 Series is the coupe, four-door coupe and convertible variant, though new versions of those models haven't been revealed yet.
Embedded content: https://www.youtube.com/watch?v=GzWvu4VjRb8
BMW's equally-iconic M3 performance sedan will debut in another year or so.
The 3 Series competes against models like the Audi A4, Mercedes C Class, Genesis G70, Alfa Romeo Giulia, Volvo S60, Acura TLX, Lexus IS and ES, Infiniti Q50, Cadillac ATS, and Kia Stinger.
This new generation 3 Series is known internally (and to BMW fans worldwide) as the G20 model. It grows a bit versus its predecessor: the wheelbase is 1.6 inches longer, the overall length is 2.9 inches longer and it's slightly wider and taller. Despite this growth, by using more aluminum throughout the 3 Series' body, structure and chassis, BMW was able to shave as much as 121 pounds off the previous model's curb weight.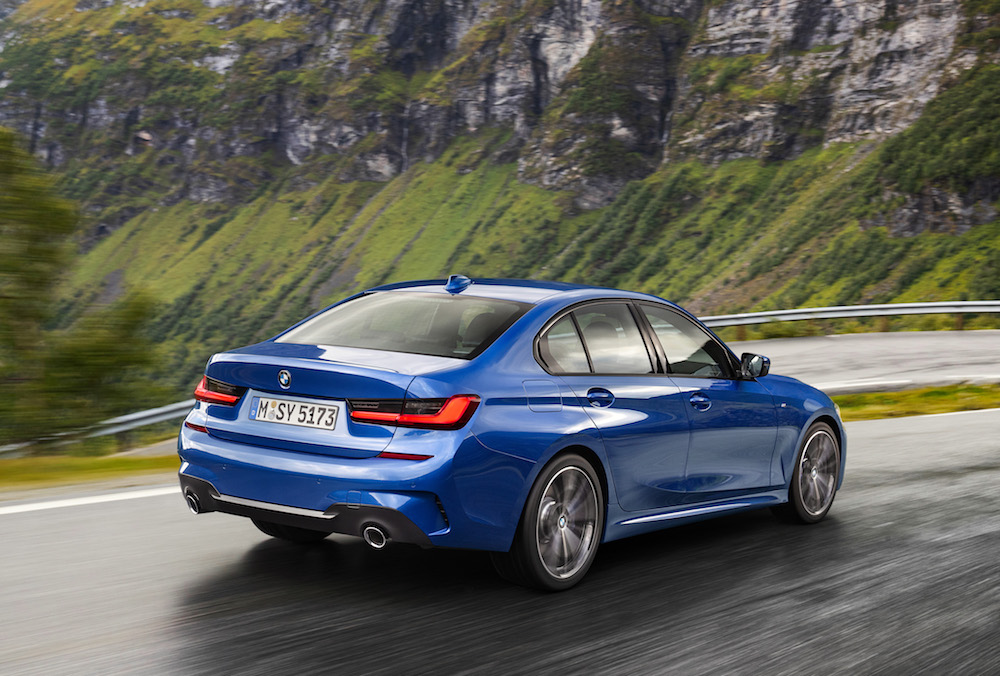 There will be two models of the new 3 Series initially, the 330i and the M340i.
The 330i will be a 2019 model and goes on sale in March 2019; it will start at $41,245, including destination. It's powered by a turbocharged 2.0-liter inline four-cylinder engine that makes 255 horsepower and 295 pound-feet of torque (a gain of seven horsepower and 37 pound-feet of torque versus the outgoing model.
The lustier M340i version will go on sale next summer as a 2020 model and it starts at $54,995. This model uses a turbocharged straight-six cylinder engine that makes 382 horsepower and 369 pound-feet of torque.
Both the 330i and M340i will come standard with an eight-speed automatic transmission with paddle shifters and a manual mode. Rear-wheel-drive is standard on both, while BMW's xDrive all-wheel-drive system will be a $2,000 option.
---
What's good
TLDR: More of everything that's made the 3 Series good.
More of the good stuff. The base 330i now comes with slightly more horsepower (up seven) and more torque (37 additional pound-feet), plus more space inside and out (four six-foot-tall passengers can ride comfortably), more cutting-edge technology features, excellent handling and impressive refinement. And with no price increase versus the outgoing sixth-generation. Kudos to BMW for making the good parts of the 3 Series better without inadvertently creating new weak spots.
Tech goodies. A 3D, 360-degree parking camera. A drowsy driver alert system which, on command, will turn up energizing music and will use the climate control system to send pulses of cooler air into the cabin to help wake you up. A parking memory system that automatically backs the car out of the space based on how you drove it in there. BMW engineers packed a lot of novel tech-based features — most of which are optional — into this new 3 Series to keep the sedan modern, relevant and selling well in the face of increasing competition from rivals and the crossover segment. The nice thing is these features are useful and they work well -- rather than kitschy, poorly-executed novelties that no one in the real world will use.
M340i. While the 330i will diligently do its job as a base model with a nice mix of fun and comfort (funfort?), the M340i xDrive that we tested proved to be a real hoot on the racetrack (we weren't able to test it on public roads). Its all-wheel-drive system ably mimics a rear-wheel-drive car with impressive levels of predictable oversteer, the powertrain has it all (strong engine power, quick transmission shifts) and the steering and handling are equal parts smooth and predictable. While the experience wasn't as crisp as an Alfa Romeo Giulia, it was impressive and thrilling nevertheless.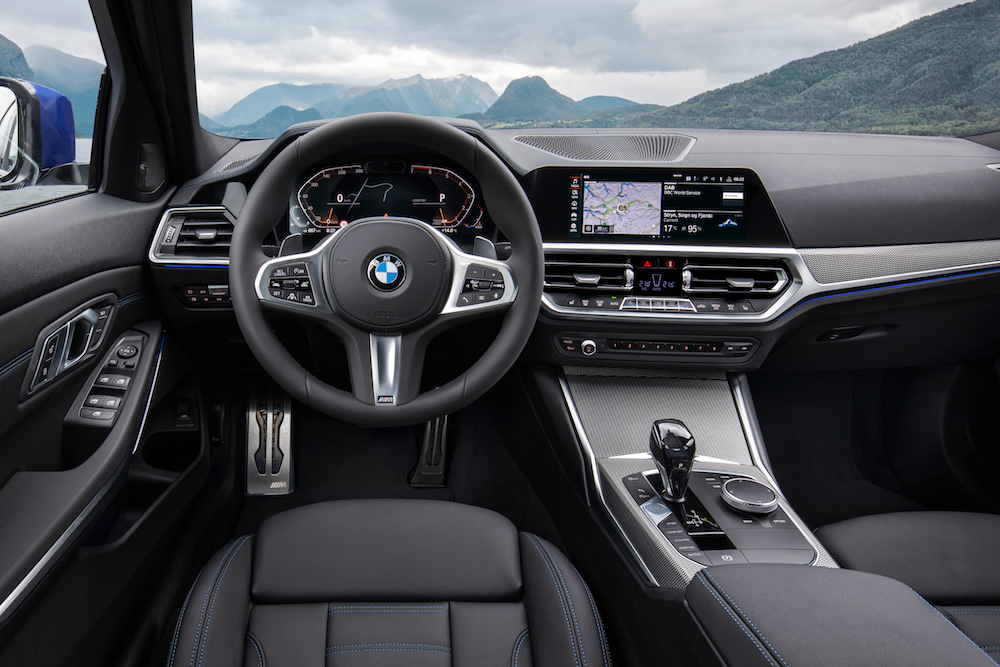 What's bad
TLDR: A few minor issues with its handling
Sleepy transmission. When pushed hard in the 330i's default driving mode, the eight-speed automatic feels slow to when changing gears, a marked departure from the rest of the car's usually enthusiastic personality.
Suspension. Without getting into the boring details, there were times when the suspension felt too stiff (over some odd bumps in regular driving) or too bouncy (on undulating freeways) or even a little unsettled when soaking up a bump in the middle of a high-speed corner. Much of this is likely tied to a new suspension design BMW debuted on this 3 Series called lift-related damper control. Regardless of what you call it, we were surprised to encounter these issues, given BMW's reputation for dynamic excellence.
Light steering. In the 330i's default mode, the steering feel was too light to provide meaningful feedback to the driver. Fortunately this was easily resolved by switching the car into one of its other modes: Sport, Sport+ (if equipped) or individual.
---
5 stars of execution
Safety Features? Yes
All new 3 Series models come standard with the kinds of active safety features that all buyers should expect. These include pre-collision warning and braking, adaptive cruise control and lane departure warning.
Neither the National Highway Traffic Safety Administration (NHTSA) or the independent Insurance Institute for Highway Safety (IIHS) has released crash-test ratings for the new 3 Series.
However, NHTSA gave the previous-generation 3 Series a five-star crash test rating and IIHS rated it a Top Safety Pick; it's likely the new model will have similar, if not better ratings.
Value? Yes
Kudos to BMW for launching a completely redesigned model while keeping the starting price of the new 330i identical as the outgoing model ($41,245). For that money, buyers get a nice amount of stuff: the aforementioned active safety features, power moonroof, 18-inch alloy wheels, power front seats, climate control and faux-leather seats.
Efficiency? N/A
The EPA hasn't yet finalized fuel efficiency numbers for the 330i or the M340i. We'll update this section when they do.
The new models are expected to be more efficient than their predecessors.
Driving experience? Yes
Despite growing in size and adding in new layers of safety tech, this BMW 330i can still boogie. It's able to give the driver plenty of feedback, thrills and comfort all at the same time (light steering and sleepy gear changes notwithstanding).
The six-cylinder M340i version takes all this and dials it up several notches while ironing out most of the issues we didn't like on the 330i.
It's worth mentioning, however, that this car doesn't feel like the 3 Series models of yore: the hallowed E30, E36, or even E46 models from decades past. Nor should it or could it. Complaining about this is silly and ignorant since it ignores the realities of what the modern sport sedan buyer wants and it ignores the many global safety and efficiency standard automakers must comply with. If you're going to gripe about this, put your money where your mouth is and buy a BMW M2 coupe or an Alfa Romeo Giulia.
Execution? Yes
What we loved most about this new 3 Series is the way it's able to give nearly everyone a lot to like. Your average Joe who wants a reasonably-priced luxury sport sedan that is comfortable, stylish and well-made sedan (many of the actual buyers in this segment) will be plenty happy. The buyer looking for more grin-inducing thrills than your average sport sedan provides, will be equally happy, provided they're willing to foot the bill for the M340i. The only unhappy people will be the ones with unrealistic expectations.
Overall this is an excellent sport sedan that should do well to claw back some sales from the ever-growing crossover threat.
 Total Rating: 5 stars*
---
What's it gonna cost me?
As mentioned, the incoming 2019 330i has the same base price as the outgoing 2018 model ($41,245, including destination). That model includes the 255-horsepower, turbocharged four-cylinder engine, LED headlights, adaptive cruise control, lane-keep assist, moonroof, 18-inch alloy wheels, power front seats, smartphone unlocking for the vehicle, an 8.8-inch touchscreen infotainment system, a 5.7-inch digital display screen in the instrument panel, climate control and faux-leather seats.
The 2020 M340i starts at $54,995 and comes with its stellar 382-horsepower, turbocharged inline six-cylinder engine. Its list of standard features hasn't been finalized but it will certainly include at least the same base features as the 330i. It will also come standard with a standard limited-slip differential, navigation system, a firmer, sport-tuned M-Sport suspension that rides 0.4-inches lower, variable ratio sport steering, larger performance M Sport brakes, three-zone climate control, a 12.3-inch digital, configurable instrument panel and a 10.25-inch touchscreen infotainment system.
All-wheel-drive is a $2,000 option on both the 330i and the M340i.
---
Also consider
Despite plenty of models competing against it, the 3 Series doesn't have many true rivals who balance comfort, performance and luxury so well.
Alfa Romeo's Giulia is still a better-handling sedan, though it's smaller and its reliability ratings aren't great.
The Genesis G70 is another model that tops this segment in terms of handling and it's overall an excellent option but we'd still prefer this new 3 Series.
The Mercedes C Class has plenty of luxury but it's also more focused on low-key elegance than being fun on the streets.
Audi's A4 is perfectly suited to many buyers' tastes but we also found it a little bland to drive.