The Audi Q3 got a massive redesign in 2019, transforming not just its looks, but its powertrain, tech specs, and more. With all these features still fairly fresh and up-to-par with the current modern trends, there are very minimal changes in 2020 Audi Q3 that's sitting proudly in the showrooms.
Story
My boyfriend and I drove from 18 hours from North Carolina to Michigan last Christmas and I was meeting his family for the first time. Somewhere in Ohio we stopped at Buffalo Wild Wings to grab some food and we got seated right outside the women's bathroom. (This is important!) After we sat down I went to the bathroom and the lock got jammed.
Pros
Top of the line infotainment system. Details that offer ease of use. Great mid level performance. Fantastic car stability. Great attention to details like the small bins. Awesome safety and security measures. Easy to use trunk. Offers great visibility. Takes the guess work out of parking. Ultimate ride comfort.
Cons
Disappointing color palette. Problematic seating in the back. Fake vents.
Audi Q3 News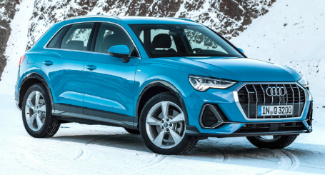 Other Audi Q3 Years
Other Audi Vehicles